Vienna tops world's best cities survey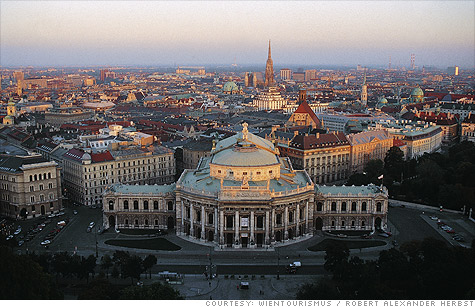 NEW YORK (CNNMoney.com) -- Vienna, the Austrian capital renowned for its music and architecture, has the best quality of life of any city in the world, according to results of a survey released Wednesday.
The Viennese ranked number one among 221 cities surveyed by Mercer, a London-based investment services company owned by Marsh and McLennan Cos. (MMC, Fortune 500) Vienna was followed closely by two Swiss cities: Zurich and Geneva.
The survey considered such matters as political stability, crime, economy, personal freedom, health services, sewage, air pollution, schools, public utilities, transportation, housing and climate. It also took into account the cities' restaurants, theaters, sports, availability of consumer goods and record of natural disasters.
Vienna lauded the survey results on its official Website, saying "A fact that makes millions of visitors to Vienna so enthusiastic has again been confirmed by a well-known international city survey: Vienna's the best in every way!!!"
The U.S. failed to make the list of the top 10 most livable cities, which included the Canadian city of Vancouver, Auckland in New Zealand, the German cities of Dusseldorf, Munich and Frankfurt, the Swiss city of Bern, and also Sydney, the largest city in Australia.
Honolulu was the top U.S. city, at number 31, followed by San Francisco at 33 and Boston at 37.
At the bottom of the scale was Baghdad, where gun battles, terrorist attacks and kidnappings have become routine since U.S. and coalition troops invaded in 2003. The survey said that a "lack of security and stability" has created unlivable conditions in the Iraqi capital.
The earthquake-ravaged city of Port-au-Prince in Haiti and poverty-stricken Dhaka in Bangladesh are also among the lowest-ranked cities on the livability list.
Mercer also conducted an "eco-city" survey focusing exclusively on water availability and cleanliness, waste removal, sewage, air pollution and traffic congestion. On that list, the U.S. fared much better.
Honolulu placed second in the world, bested only by the Canadian city of Calgary. Minneapolis was sixth and Pittsburgh was 13th. The nation's capital, Washington, was 23rd. Otherwise, the eco-list was dominated by cities in Canada, western Europe, Australia, New Zealand and Japan.
As an eco-city, Baghdad managed to rank above Antananarivo, capital of the African island-nation of Madagascar, which came in dead last.
Slagin Parakatil, senior researcher at Mercer, said "the lack of adequate modern infrastructure in some of the African cities combined with relatively high air pollution" is why many African cities fared so poorly on the list.