Gold-dispensing ATMs: Coming to a city near you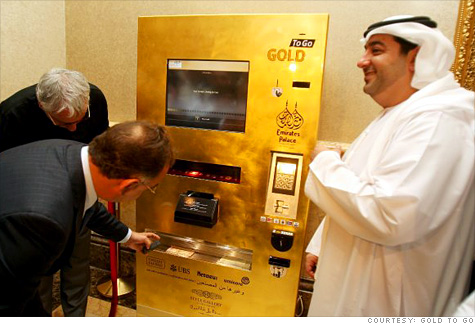 NEW YORK (CNNMoney.com) -- As economic fears drive gold prices to new highs, the creator of a gold-dispensing ATM is attracting attention around the globe.
Germany-based GOLD to go, which is currently churning out 50 gold machines a month to meet a recent jump in demand, launched its first ATM in Abu Dhabi's Emirates Palace Hotel earlier this month and opened its second in Germany last week.
The golden ATM's next destinations are the Bergamo Airport in Milan, Italy, all major airports in Malaysia, one of Russia's biggest banks and an undetermined location in Turkey.
By making gold investing as easy as buying a candy bar from a vending machine, GOLD to go hopes to attract average buyers to the gold market.
"We are going to make gold public with these machines," said Thomas Geissler, CEO of Ex Oriente Lux AG, which owns GOLD to go. "The prices are so easy to control that we're going to de-mystify gold and make it easier for anyone to buy it."
GOLD to go's ATM looks like a vending machine and dispenses gold coins and bars weighing up to one ounce at prices updated every 10 minutes based on the real-time spot price of gold.
ATM-owners can choose from a variety of other gold items, such as gold Canadian maple leaf coins, South African Krugerrands, and even some custom designs. For example, the special edition gold medallion it engraved with the Palace Hotel's logo was created for the United Arab Emirate debut.
Earlier this month, gold prices hit an all time high of nearly $1,250 per ounce, and the precious metal has continued to climb as euro zone countries struggle with debt and investors worry that the region's problems could spread globally.
Until this uncertainty in the market eases, the demand for gold will only grow, said Carlos Sanchez, a precious metals analyst at CPM Group.
"[The ATM] is just a reflection of the demand from consumers and investors for exposure to gold," he said. "As long as prices continue to trend upward and investors remain concerned over economic and political conditions, I think we'll keep seeing strong demand for safe-haven assets like gold."
Next stop, Italy: Patrizio Locatelli, owner of SE 6, a small company in Italy that pays customers for gold, flew to GOLD to go's factory in Germany to check out the prototype when it was first unveiled.
Locatelli was having a hard time keeping up with the costs of rent and hiring employees, so when he came across the GOLD to go ATM online, he saw it as a golden ticket to an efficient way to expand his business.
"When you see exchange rates going up and down every day with the euro under so much pressure and stocks decreasing, this gold machine seemed like a very sound idea," he said. "In times like these you must think of somewhere else to put your money, and physical gold still has great appeal for everyone."
Locatelli is now launching a GOLD to go ATM in Milan's Bergamo Airport, which he says is one of Italy's fastest growing airports.
"[Bergamo] is a great place for it, because serious international business travelers will stop over here a few times a month at least," he said. "In general you tend to spend more when you're traveling and in a good mood, so you can now use a vending machine to get a present for someone or buy some bullions as an investment."
After a three-month testing period at Bergamo Airport, Locatelli said he hopes to introduce gold ATMs in every airport in Italy as well as major community centers and banks.
Not for serious investors? While the ATMs could be a hit with wealthy travelers, the idea is unlikely to catch on with serious investors, said Jeffrey Nichols, managing director at American Precious Metals Advisors.
"It's an interesting phenomenon, and I can see that wealthy and high-net-worth travelers might make impulse splurges on gold bars or coins, but I can't see a serious investor buying gold through a vending machine," he said.
Jon Nadler, senior analyst at Kitco Metals, agreed, saying that he would be surprised if investors bought into the new invention, because unlike the spot market, ATMs don't take your gold back when you want to sell it.
"Gold is a two-way market, so I would like to see that same machine buy back that gold and spit out cash," said Nadler. "A gold-dispensing ATM is great, but a real ATM also accepts deposits."
Nadler also said that GOLD to go's higher prices may be a deterrent, especially to investors who want to purchase large amounts.
GOLD to go says that, like any physical gold vendor, it must apply a margin to its items. While the spot price for one ounce of gold was about $1,214 in midday trading on Thursday, GOLD to go was selling a 1-ounce gold bar for 1,044.86 euros, or approximately $1,284.13.
But the ATM's popularity shows how much more available gold is becoming as demand picks up.
"It shows how attitudes toward gold are changing," said Nichols. "Gold is available in more forms and through distributors that make it more accessible for average people around the world to buy gold."