Robocall 2.0: Live messages from sports stars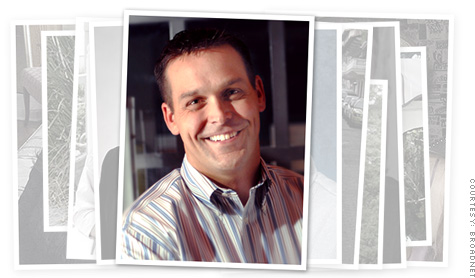 (CNNMoney.com) -- Whatever your political leanings, chances are you share one thing with most Americans: You don't like robocalls.
Neither does Steve Patterson, and he's heard a lot of them. The Colorado entrepreneur spent two years creating prerecorded political messages at Broadnet, a robocall consultancy in Highlands Ranch, a Denver suburb. He launched the company in 2002 with two colleagues, Brian Brown and Mike Davis, after getting laid off from telecom giant Global Crossing (GLBC).
But Broadnet's business model evolved rapidly. In October 2004, Pete Coors, chairman of Molson Coors Brewing (TAP), ran for an open seat in the U.S. Senate. Coors hired Broadnet to disseminate a prerecorded message debunking rumors that he wanted to lower the legal drinking age. The message was delivered by Coors' wife, Marilyn. Her words sounded heartfelt and seemed to resonate with listeners, Patterson recalls. But there was still something canned and lifeless about the presentation.
In other words: No matter how good it sounded, it was still a robocall.
"When I heard that message, I thought, 'Really great message, but 10 times better if we could talk to her,'" says Patterson.
So he decided to transform Broadnet into an interactive call-delivery service, one that lets thousands of people hear from a live human being on the phone. Instead of a robocall, listeners would experience something like a live radio call-in show, with one critical difference: You don't call the station. The station calls you.
When Broadnet calls listeners now, they're greeted with a message preparing them to receive a live broadcast. You might hear, for example, that President Barack Obama will on the line in five minutes to speak about health care. Some calls invite listeners to weigh in with questions, vote on issues, or leave a message with their thoughts at the end of the call.
In 2009, 35-employee Broadnet became Colorado's fastest-growing private company, landing it at #54 nationally on Inc. magazine's list of the 500 fastest-growing firms. Revenue in 2008 hit $8 million, and then $12 million in 2009. Patterson expects sales of $15 million to $20 million this year.
But Broadnet still faces some sharp challenges. After all, most people don't want to be bothered with calls at home.
"It's harder and harder to get people to listen to you," says Scott Keeter, director of research at Pew Research Center, which studies public attitudes toward media and policy issues. Pew's 2008 November election survey found that 59% of people in battleground states received a prerecorded political call. Two-thirds hung up.
Just getting that information was no easy feat, says Keeter, because only 15% of Americans stay on the phone with Pew researchers. When the center called people to ask how they felt about being bothered over the phone, most of them wouldn't stay on the line long enough to sound off.
Still, Patterson's instinct told him live callers would get better results than canned ones -- and he appears to be right. More than half of the people who receive Broadnet's live calls from politicians stay on the phone for an average of 15 minutes. For calls related to sports teams, 60% of listeners stay on the line.
Forty-five NFL and NHL teams now use Broadnet to rally fans and boost season ticket renewals. Half of Congress uses Broadnet's technology to reach voters. President Obama called AARP members on the organization's behalf to talk about health care last summer. In June 2007, One.org enlisted actor Ben Affleck to talk to members about global disease and poverty. Earlier this month, talk show host Rachel Ray called more than 1,000 people to spread a message about hunger for the nonprofit organization Feeding America. A call costs anywhere from $2,500 to $11,000, depending on the size of the listening audience.
"It's a bit of fan appreciation," says Tim McDermott, chief managing officer of the Philadelphia Eagles, which used Broadnet twice in the past six months to speak with fans about the upcoming season. "It allows them to feel this uniqueness and closeness."
In March, Jacksonville Jaguars general manager Gene Smith phoned 13,000 season ticket holders and asked them to vote on whether to draft Heisman trophy winner Tim Tebow. He was shocked by the results: 55% were against it. The team never drafted Tebow.
Despite the rise of online social media, the old-fashioned telephone is still a powerful tool, Patterson believes.
"You do e-mail, you can send a tweet, you can post information on Facebook, but with this, you can hear somebody whisper. You can hear somebody yell. You can hear passion and disinterest," he says. "What we're capturing is this ability to people get back to hearing each others' voices."