Dollar mixed ahead of holiday
NEW YORK (CNNMoney.com) -- The dollar was mixed against other currencies in thin and volatile trade Friday ahead of the U.S. holiday weekend.
Foreign exchange rates bounced along either side of breakeven in morning trade. Friday marked the last day of trading for the month of May, with Monday being the Memorial Day holiday in the United States.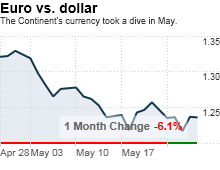 What prices are doing: The dollar rose 0.5% against the euro to $1.2301.
The greenback was up 0.8% versus the British pound at $1.4459. It was down 0.3% against the Japanese yen at ¥90.80.
What analysts are saying: Europe was the big story in May, with its currency plunging 6% on concerns that a debt crisis would sweep through the Continent.
The euro has been stuck in its downward spiral for several weeks, even after the European Union met May 9 to approve a $1 trillion rescue package. That and other government moves have failed to put a floor under the currency.
In an effort to contain their debt problems, weaker members of the EU - including Greece, Portugal and Spain - announced major budget cuts. Deadly street riots broke out in Greece, and investors worried that the austerity measures will hamper any fragile recovery in Europe.