Say goodbye to full-time jobs with benefits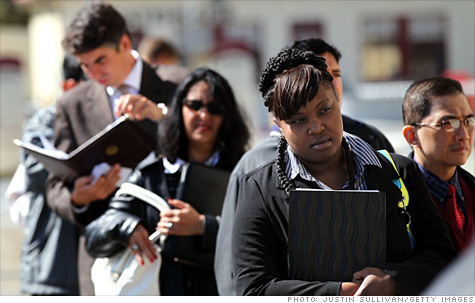 NEW YORK (CNNMoney.com) -- Jobs may be coming back, but they aren't the same ones workers were used to.
Many of the jobs employers are adding are temporary or contract positions, rather than traditional full-time jobs with benefits. With unemployment remaining near 10%, employers have their pick of workers willing to accept less secure positions.
In 2005, the government estimated that 31% of U.S. workers were already so-called contingent workers. Experts say that number could increase to 40% or more in the next 10 years.

James Stoeckmann, senior practice leader at WorldatWork, a professional association of human resource executives, believes that full-time employees could become the minority of the nation's workforce within 20 to 30 years, leaving employees without traditional benefits such as health coverage, paid vacations and retirement plans, that most workers take for granted today.
"The traditional job is not doomed. But it will increasingly have competition from other models, the most prominent is the independent contractor model," he said.
Doug Arms, senior vice president of Ajilon, a staffing firm, says about 90% of the positions his company is helping clients fill right now are on a contract basis.
"[Employers] are reluctant to bring on permanent employees too quickly," he said. "And the available candidate landscape is much different now. They're a little more aggressive to take any position."
Cathy, who asked that her last name not be used, lost her job as a recruiter for a financial services firm in February 2009. She started working on a contract basis four months later. She believes that many employers are taking improper advantage of the weak labor market.
"I work in HR, I understand that sometimes you need to hire a contractor because you have a project and you won't need the person when it's done in three months," she said. "But that's not what's happening here."
Cathy said her co-workers who had permanent jobs didn't treat her differently, but she still felt like a second-class citizen.
"At one job they were giving out H1N1 flu shots but the contract workers weren't eligible to receive them," she said. "I said 'You guys are still in trouble if I get the flu.'"
Much of the change is due to employers' desire to limit their costs. Stoechmann equates the shift to the one seen in retirement plans, in which employers moved away from the traditional pension plan toward defined contribution plans, which passes more of the burden onto the employee.
Demographic factors are feeding the shift as well. Stoechmann said many younger workers are more open to the idea of not tying themselves to a single employer.

And as baby boomers reach the age when they are eligible for Medicare and not dependent upon their employer for health insurance, many are more open to contract work.
Health care reform legislation passed earlier this year, which will create a mandate for employers to provide health benefits for employees but not contractors, will also feed the trend.
"Once you have an employer mandate in place, you create an incentive for employers to get around that mandate," said Susan Houseman, a senior economist studying labor issues at the W.E. Upjohn Institute.
Houseman also believes the jobs market could stay tilted in favor of employers for much of the coming decade, because of the depth of job losses and the lingering weakness in the economy.
Sara Horowitz, the founder and executive director of the Freelancers Union, an advocacy group for freelancers and independent contractors, said that employment laws and protections have been slow to recognize the shift. For example, independent contractors aren't eligible for unemployment benefits. And they have to pay both the employee and the employer match on their Social Security taxes.

But Horowitz said not everyone who works as a freelancer or independent contractor is unhappy with their situation.
She estimates about 30% are satisfied with the arrangement, about equal to the number who desperately want to find a full-time job with benefits. The other 40% are somewhere in the middle, feeling pleased by aspects of their job and unhappy about others.
"It's not that most want to be freelancers or don't want to be freelancers. They're just following the work, and the work itself is evolving," she said.