America's 7 junkiest cities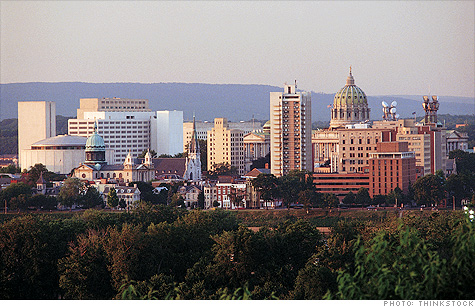 NEW YORK (CNNMoney.com) -- Think Greece and Spain are drowning in debt? Look a little closer to home. Seven U.S. cities recently had their municipal bonds downgraded below investment grade. Their debt is now junk, considered more worthless than that of the so-called PIIGS.
"America's short-term budget crises, long-term growth perspectives and needs for austerity are similar [to Greece]," said Matt Fabian, managing director at Concord, Mass.-based consulting firm Municipal Market Advisors.
Last quarter, Moody's Investor Services declared the debt issued by Harrisburg, Penn., and Woonsocket, R.I., to be junk, or below-investment grade. Meanwhile, Fitch Ratings currently has four other cities in the basement -- Detroit and Pontiac, Mich.; Harvey, Ill.; and Littlefield, Texas -- while Standard and Poor's has one -- Central Falls, R.I.
These seven cities are struggling under the weight of the recession. Residents are unemployed, and without a job, they can't pay their property taxes, which are the foundation of local budgets. And cities' operating expenses continue to soar; pension and debt payments don't go away. And as their credit gets worse, the cost of borrowing for municipal projects -- such as sewer plants and roads -- just gets more expensive.
"The fiscal stress is severe in cities around the country, and it's likely to stick around for at least a couple of more years," said Chris Hoene, director of policy and research at the National League of Cities.
Things are particularly tough for Central Falls, R.I., a town of about 19,000 people near Pawtucket. Moody's just slashed its rating to C -- the lowest possibility before default -- after the city was put under receivership last week. It now has a court-appointed lawyer managing its finances and future.
Central Falls cannot afford its pension fund and is facing deficits that could "be above 20% of budget in the current fiscal 2010 and fiscal 2011 due to state aid cuts and increases to pension costs," according to S&P.
Four hundred miles southwest, things aren't much better. Moody's knocked the rating on Harrisburg, Penn.'s general-obligation bonds three notches to B2 -- five steps below investment grade. To put that into perspective: Moody's rating on Greece's government debt sits at A3 -- still investment grade. And while S&P has slashed Greece's debt to the junk class last month, its rating is only one notch below investment. Fitch's rating on the troubled nation's debt still holds just above speculative grade.
The financial state of Pennsylvania's capital is so fragile that city controller Dan Miller has been urging bankruptcy. That is a measure so rare and complex that only 245 municipalities out of over 80,000 have filed for Chapter 9 since 1937. Plus, to qualify, cities have to meet several strict requirements, including gaining an endorsement from the state proving insolvency to the court.
Still, the scenario is beginning to look more and more appealing as the city is insolvent and on the line for a nearly $300 million incinerator.
The city issued bonds for the trash plant on behalf of the Harrisburg Authority, a municipal agency. But last month the authority, which is carrying an estimated $282 million in outstanding debt, announced it would not make a $425,000 payment to bondholders in early May.
The city didn't have the money, either, so another guarantor had to swoop in for the rescue.
"We're not an open checkbook. We have high taxes to begin with, our residents are poor, and there's not much growth in our city," said Miller, who is a former city councilman. "If we go into Chapter 9, we can focus on reducing our debt. Even if we could cut it from $300 million to $100 million, we could find a way to afford that."
But Linda Thompson, who has been mayor for just five months, thinks the city can pull itself out of the debt ditch without the nuclear option of bankruptcy, which is considered political suicide and a red flag for potential new businesses.
"We should look at all of our options and develop a plan before we decide that Chapter 9 is our only saving grace," she said.
She's most optimistic about reaching a forbearance agreement on the incinerator debt. But she is also considering selling the city's assets, including the city's parking garages, which bring in about $18 million annually -- almost a third of the city's revenue.
While most cities will make it through the slump without turning to bankruptcy, some will find it unavoidable.
"We're at a tipping point," said Jim Spiotto, a partner with Chicago-based law firm Chapman & Cutler. "In the past, the economy has declined and come back, and it has been a fairly quick process. But this downturn seems to be deeper, more painful and prolonged, and as a result we could have a number of more casualties."
Most economists agree that for a robust recovery, the unemployment rate has to improve. Employers added significantly more jobs to payrolls in April, and are expected to do the same in May, but the unemployment rate still lingers above 9% as more job seekers return to the market. And as long as unemployment remains severely high, taxpayers will have a hard time paying their taxes.
"You can't liquidate cities and villages like you can with corporations," Spiotto said. Rather, it just allows them to restructure what they owe.
A bankruptcy typically gives cities leverage to talk down unsecured creditors, such as vendors that supply materials for road construction or other city operations. It also provides some room to maneuver in contractual labor commitments, which are the most costly to budgets, allowing cities to hit the reset button with unions representing government employees by bargaining pay rates. That's what the city of Vallejo, Calif., did when it went bust in May 2008.
Bondholders, however, are usually paid in full because cities want to be able to keep borrowing money.
"A vast majority of outstanding debt will be paid down with tax revenue," Fabian said. "When borrowing rates skyrocket, cities can just stop selling bonds. There isn't an immediate trigger in muni land to default."
City residents, however, have to bear the brunt of some the pain as the cities cut services, such as trash service, or lay off workers and boost taxes to manage spiraling deficits.