Stocks stage recovery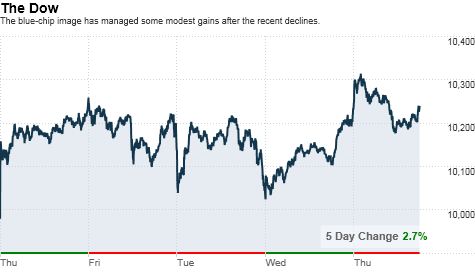 NEW YORK (CNNMoney.com) -- Stocks managed gains Thursday following a choppy session in which investors mulled mixed economic news ahead of Friday's big monthly jobs report.
The Dow Jones industrial average (INDU) added a few points. The S&P 500 index (SPX) gained 4 points, or 0.4%. The Nasdaq composite (COMP) rallied 22 points, or 1%.
Stocks gained in the morning, turned mixed in the afternoon as the euro retreated and then staged another rally near the close.
The weak euro, a spike in crude oil prices and a rise in Treasury prices were all in play during the session. Financial shares were mostly lower, while Nasdaq components Microsoft (MSFT, Fortune 500), Yahoo (YHOO, Fortune 500) and Dell (DELL, Fortune 500) helped lift that index.
On a broader level, the market is churning following a month-long "correction" that set the Dow, S&P 500 and the Nasdaq more than 10% off the recent rally highs. Stocks slumped during that period on worries that the European debt crisis and weak euro will hurt global growth.
Although economists don't expect the country to head into a double-dip recession, the recent economic news has been mixed, adding to investor concerns. That was evident in the morning's readings on jobs, factory activity and services.
Investors are also wary of the correction becoming a bigger sell-off and ultimately a bear market -- a decline of more than 20% off the lows.
"The bears think nothing has changed, we continue to have problems and things are going to get worse, while the bulls say the correction was typical and we're doing fine," said Joe Clark, market analyst at Financial Enhancement Group.
He said that this push-pull is keeping the market choppy right now. "From a trading perspective, the S&P is probably in a range between 1,040 and 1,110, and if it can get past that 1,110 range, a lot of managers will start putting money to work."
The S&P 500 ended Thursday at 1,102.
Energy: The broad stock market advanced Wednesday as energy shares bounced back from the recent drubbing sparked by the BP (BP) oil spill in the Gulf.
But energy stocks were mixed Thursday as investors mulled BP's latest efforts to plug the massive oil leak, more than 6 weeks after its Deepwater Horizon rig exploded. Two ratings agencies downgraded BP, citing the financial impact and hit to its reputation as a result of the explosion.
Nonetheless, shares of both BP and Transocean (RIG), the owner of the rig, gained as BP said its latest effort, involving the use of underwater robots, was having some success.
Jobs market: Reports on the labor market were released before the market open that showed some improvement. However, results were shy of economists' expectations.
The number of Americans filing new claims for unemployment fell to 453,000 last week from a revised 463,000 the previous week. Economists expected 455,000 new claims. But continuing claims, a measure of those receiving benefits for a week or more, rose to 4,666,000 versus forecasts for a decline to 4,600,000 from 4,635,000 the previous week.
Payroll services firm ADP said private-sector employers added 55,000 jobs to their payrolls in May after adding 65,000 in April, short of forecasts for a gain of 60,000.
On Wednesday, outplacement firm Challenger, Gray & Christmas said planned job cuts rose 1.3% in May, although the pace of downsizing continued to slow.
Friday's jobs report is the biggest of the week. The government is expected to report that employers added 500,000 to their payrolls last month, due partly to the impact of the Census jobs. Employers added 290,000 in the previous month. The unemployment rate, generated by a separate survey, is expected to have fallen to 9.8% from 9.9% in the previous month.
Economy: Another report from the Commerce Department showed that factory orders increased 1.2% in April, short of the forecast for a rise of 1.7%. Orders grew 1.7% in March.
The Institute for Supply Management's services sector index for May held steady at 55.4, missing forecasts for a rise to 55.6. However, any reading over 50 shows expansion in the sector.
Retail: In other economic news, the nation's chain stores reported the ninth straight month of gains in May, with discounters such as Costco (COST, Fortune 500) leading the charge.
Euro: The euro inched lower versus the dollar after touching a four-year low of $1.2111 on Tuesday. The euro lost 0.6% versus the greenback.
The dollar fell 0.1% against the yen.
World markets: Markets in Europe rallied. Britain's FTSE 100 gained 1.2%, Germany's DAX added 1.2% and France's CAC 40 advanced 1.6%.
Asian markets ended higher. Japan's Nikkei rallied 3.2% and Hong Kong's Hang Seng rose 1.6%.
Commodities: U.S. light crude oil for July delivery rose $1.75 to settle at $74.61 a barrel on the New York Mercantile Exchange.
COMEX gold for August delivery fell $12.60 to settle at $1,210 an ounce.
Bonds: Treasury prices fell, pushing the yield on the 10-year note to 3.38% from 3.33% late Wednesday. Treasury prices and yields move in opposite directions.
Trading volume: Market breadth was narrowly positive and trading volume was moderate. On the New York Stock Exchange, winners beat losers by more than three to two on volume of 1.22 billion shares. On the Nasdaq, advancers topped decliners by eight to five on volume of 2.21 billion shares.