May jobs report: Census inflates payrolls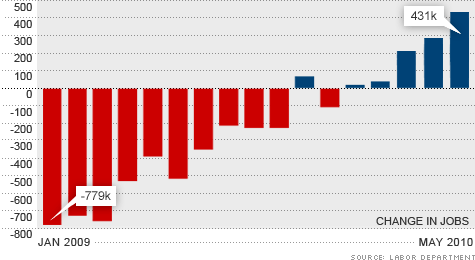 NEW YORK (CNNMoney.com) -- A flood of temporary Census workers in May led to the biggest jump in jobs in ten years, the government reported Friday.
Employers added 431,000 jobs in the month, up from 290,000 jobs added in April. It was the biggest gain in jobs since March 2000.
But Census hiring was responsible for 411,000 of May's increase in employment. Private sector employers also added 41,000 jobs in the period, well below the 218,000 private sector job gains in April. Government payrolls other than Census declined by 21,000 jobs in May, due largely to job cuts by state and local governments.
It was a disappointing number for private sector hiring, as economists surveyed by Briefing.com had forecast an overall gain of 500,000 in May. U.S. stocks traded sharply lower on the report, with the Dow Jones industrial average down more than 200 points in midday trading.
"This is a timely reminder that, although the economic outlook is improving, the recovery is still pretty fragile," said Paul Ashworth, senior U.S. economist for Capital Economics.
Despite the spike in hiring, the unemployment rate declined only modestly, to 9.7% from 9.9% in April. Economists had forecast it would decline to 9.8%.
After nearly two years of constant job losses, the U.S. economy has added 982,000 jobs so far in 2010, adding workers in every month, a sign that the labor market is improving beyond the short-term Census jobs. But the modest gain shows that employers are still cautious about adding staff.
Christina Romer, chair of the White House Council of Economic Advisers, said the lower unemployment rate was encouraging, even if the slowing of private sector job growth was reason for concern.
But Republicans were quick to criticize the report as proof that the Obama administration had taken the wrong path on trying to create jobs.
"Let me be clear -- during challenging times, a job is a job," said Rep. Eric Cantor, the House Republican Whip. "Yet government jobs that are paid for by taxing small business people and borrowing from the Chinese are not signs of a healthy economic recovery."

Rep. Carolyn Maloney, D-NY, said she was encouraged by the numbers in the report, and that it was important to recognize how much the labor market has improved.

"The job picture is very different from what it was a year ago," said Maloney, one of the chairs of Congress' Joint Economic Committee. "We're on an upwards trend. The road to recovery is bumpy, but we're trending in the right direction."
Shrinking gains: Just over half of private sector industries added jobs in the month, while 46% continued to shave jobs from their payrolls. Job gains in the private sector were far more widespread during the previous three months.
Manufacturers added 29,000 jobs in the month, but that was balanced out by a 35,000 job loss in construction. Retailers also trimmed 6,600 jobs and financial firms cut 12,000 jobs. Some sectors that added jobs, such as leisure and hospitality or health care, posted their smallest gains in months.
The Census Bureau wasn't the only employer adding temporary jobs, as there was a gain of 31,000 jobs in temporary help services.
Scot Melland, CEO of Dice Holdings, a provider of specialized career Web sites, said he was surprised by the weak private sector hiring. A semi-annual survey by his firm had found employers in the process of stepping up hiring. Despite the disappointing numbers, he still expects job growth to pick up through the rest of this year.
"You don't want to read too much into one months' results," he said. "It could be a month of digestion and we move on from here. The indicators are still positive."
Bright spots: The good news in the report beyond Census was in hours worked, which increased to an average of 33.5 hours from 33.4. That helped to lift weekly wages and also cut the number of part-time workers who wanted full-time jobs by 343,000, as workers who had their hours cut during the recession were put back on full-time status.
Job seekers are also somewhat less discouraged, as the number of unemployed workers who wanted jobs but had stopped looking for work declined by 114,000.

But the problem of long-term unemployment continued to worsen as those out of work more than six months rose to a record 6.8 million, or nearly half of all unemployed workers.
"The U.S. unemployment rate is likely to be higher for longer during the current recovery due to a structural mismatch between workers and jobs," said John Silvia, chief economist for Wells Fargo Securities