Oil prices rally on demand outlook
NEW YORK (CNNMoney.com) -- Oil prices gained for a third day Thursday as the dollar weakened and Chinese economic data boosted confidence in global demand for oil.
What prices are doing: Crude oil for July delivery rose $1.10, or 1.5%, to settle at $75.48 a barrel on Thursday after jumping more than 3% on Wednesday.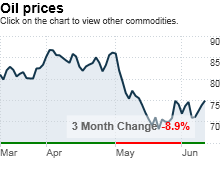 The national average price for a gallon of regular unleaded gasoline fell to $2.706 from the previous day's price of $2.713, according to motorist group AAA.
What's moving the market: Oil prices were lifted Thursday as stocks rebounded and the dollar fell against major currencies.
Oil and other commodities that are priced in dollars tend to rise when the U.S. currency weakens.
Prices were also boosted by a report out Wednesday showing a bigger-than-expected drop in supplies last week and positive economic data from China.
Chinese exports surged nearly 50% in May compared to a year earlier, widely beating expectations, according to a China Daily report. Meanwhile, imports jumped 48%.
"This shows that China is importing more crude, and that's what the market has really paid attention to and what is moving prices up," said James Williams, president and energy economist at WTRG Economics.
As confidence in a global recovery and petroleum demand continues to increase, oil prices will benefit.
"Today it's a matter of risk versus no risk," said Williams. "If traders keep desiring more risk, you'll keep seeing higher prices."
Wednesday's oil supply report from the Energy Information Administration, which showed that crude inventories fell more than expected last week, will also support higher prices on Thursday, he said.
Outlook: Williams said he expects prices to remain above $70 for the rest of the year, assuming that the euro zone's debt crisis doesn't worsen.
"If we avoid a meltdown in the European economy, I think we'll see oil in a $70 to $80 range," he said. "But if the euro collapses and Europe goes into a double dip [recession], we could see prices go into a $60 range."