IKEA recalls more than 3 million blinds
NEW YORK (CNNMoney.com) -- IKEA is recalling more than 3 million additional window blinds after a child nearly strangled earlier this year, the government said Thursday.
This expands the furniture retailer's previous recalls of the same types of blinds, bringing the total number of blinds recalled to more than 4.5 million.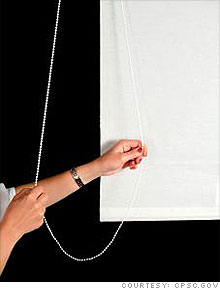 All Roman blinds and roll-up blinds sold at IKEA nationwide from 1998 through June 2009 for between $5 and $55 are included in the recall, according to a statement from the U.S. Consumer Product Safety Commission.
Roller blinds without a tension device attached to the beaded chain are also part of the recall, because a child's neck can become entangled in the looped chain if it isn't attached to a wall or floor.
The three types of blinds were all recalled due to the risk of a child being strangled by a cord.
CPSC said the recall was announced a new report that a 1 year old boy had nearly strangled on a cord in February.
Previous recalls by IKEA of the same types of blinds came after reports that one child died and another was almost strangled. About 790,000 Roman blinds were recalled in 2008 and 2009 and 533,000 roller blinds were recalled in 2009.
Roman blinds can cause strangulation if children pull the blind's exposed cord out and wrap it around their necks, or put their necks between the blind's inner cord and the back of the blind.
Roll-up blinds can strangle a child puts his or her neck in the loops used to lift the blinds after it falls off the blind.
Consumers should immediately stop using all Roman blinds and roll-up blinds and return them to IKEA for a full refund. Roller blinds without a tension device attached to the chain can also be returned.
For additional information, consumers can call IKEA toll-free at (888) 966-4532.