Treasurys rise on disappointing retail sales
NEW YORK (CNNMoney.com) -- Treasurys rallied Friday after a disappointing retail sales report sparked renewed concerns about the economic recovery.
What prices are doing: The benchmark 10-year note rose 27/32 to 102-11/32, pushing the yield down to 3.22% on Friday from 3.31% late Thursday. Bond prices and yields move in opposite directions.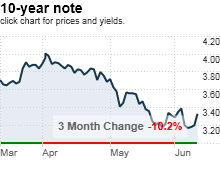 The 30-year bond rose 1-21/32 to 104, yielding 4.14%. The 5-year note jumped 14/32 to 100-16/32 and yielded 2.02%, while the 2-year note was up more than 3/32 to 100-1/32, yielding 0.73%.
What's moving the market: Treasury prices rallied after a disappointing report on retail sales sparked renewed fears about the strength of the U.S. economy.
The Commerce Department reported that retail sales surprisingly fell by 1.2% in May, sending wary investors fleeing toward the relative safety of government-backed bonds.
Since Treasury bonds are backed by the U.S. government, investors view them as low-risk investments that are attractive during times of economic uncertainty.
Treasury prices seesawed throughout the week, in line with U.S. stocks, as investors looked for direction amid the ebb and flow of economic news. As uncertainty about the global economy recovery looms, many analysts say this trend is likely to continue, potentially putting the U.S. economy on even shakier ground.
"Longer term, the economy is vulnerable to a double-dip recession," said David Coard, head of fixed income trading at The Williams Capital Group.
Treasury yields, which move in the opposite direction of prices, have fallen over 10% in the past three months amid signs of economic weakness in the U.S. and uncertainty in Europe.
Coard says that even if the U.S. economy doesn't experience a double dip, it is likely to see much slower growth in the second half of 2010.
"I don't think there's been enough jobs created or income growth to keep the economy growing at the same pace that we've enjoyed," he said. "The big question remains: is growth sustainable? I'm skeptical."