134-year-old oyster company stops shucking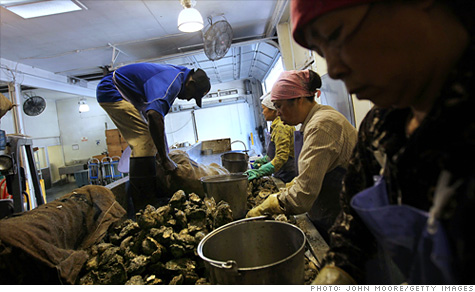 NEW YORK (CNNMoney.com) -- P&J Oyster Company, a 134-year old operation in the heart of New Orleans' French Quarter, has stopped shucking.
The company processes and distributes oysters. A big part of its business was shucking oysters out of their shells, but that has been killed off by the BP oil spill. Fewer oysters are being farmed in the oil-stained waters of the Gulf of Mexico. So P&J Oyster has no oysters to shuck.
"My son -- who is delivering oysters right now -- he asked me yesterday, 'Should I go apply for food stamps?' " said Al Sunseri, president and co-owner of P&J Oyster. "I started here when I was 21, and I remember how I wanted to carry on the tradition of our business and I remember the feeling of not only the pressures of trying to carry on this long-standing business but also the opportunity that I had to do it."
Oyster shuckers are paid by the piece and typically make between $16 and $24 an hour depending on how skilled they are, according to Al Sunseri. Thursday was the last day P&J Oyster did any shucking, and 11 shuckers didn't have a job to report to on Friday.
Sunseri had warned his employees that the end was near, and the shuckers started working with BP representatives and Louisiana state representatives Thursday to arrange compensation for lost wages.
Oysters are big business in the Gulf area. About 67% of the nation's total production of oysters comes from the region, according to the National Oceanic and Atmospheric Administration. In 2008, Louisiana alone landed nearly 13 million pounds of oysters worth almost $40 million in sales at the dock.
Oyster supply woes: The oyster farmer beds that P&J Oyster buys supply from were shuttered as a precaution. Sunseri isn't convinced the farms will reopen. A lot of the most productive oyster farms are closed: "That puts a real crunch on availability," he said.
Restaurants that depend on P&J Oyster have had to scramble. Dickie Brennan is the owner of Bourbon House, a restaurant in New Orleans' French Quarter. His family owns a handful of restaurants that depend on P&J Oyster Company.
Many of the restaurants that P&J Oyster works with have been customers for generations and want to continue to support the family-owned distributor. "I own and operate 3 restaurants: We are pretty good volume for these guys," Brennan said.
The Bourbon House buys both shucked oysters -- for sautéing, frying, and poaching -- and whole oysters -- for the traditional oyster on the half shell.
Brennan said he has been able to get oysters from distributors that draw from outside of the areas shut down by the spill. He hopes P&J Oyster will get back on its feet eventually.
"We are like family -- New Orleans is a small city," Brennan said. "I talk to Sal or Al 5 times a day and we are trying to come up with different strategies, but the goal is that P&J can get back to normal."
Selling oranges in an apple market: Without Gulf coast oysters to purchase, Sunseri doesn't know what is next for his 25-employee business. He is considering purchasing oysters from the East and West coast to deliver to his long-time customers.
Even if he can get prepackaged oysters on the half shell delivered from other regions of the country, there won't be enough to shuck. "The market in the end is going to determine what they do. They will help me as much as they possibly can," said Sunseri.
And the oysters won't be the Gulf variety that tourists travel for and the locals love. "It is like trying to sell oranges instead of apples in an apple market," explained Sunseri. "Those oranges that people aren't accustomed to eating instead of those apples, they are having to pay 3 times the price."
Sunseri doesn't know what is next for his oyster business. It takes oysters between 18 and 24 months to grow to full size to be harvested, and the next spawning season is in jeopardy. "There is a lot of unknown and it has everything to do with so much that we have never seen happen before."