Data mining your digital footprints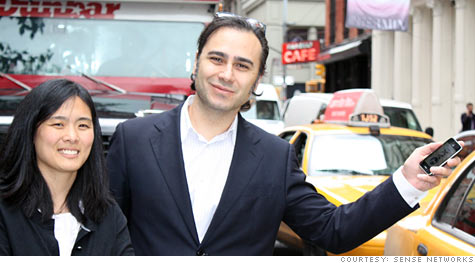 (CNNMoney.com) -- Forget the so-called paper trail. Wherever you go these days, you're creating a path of digital data, thanks to GPS technology and an ever-expanding network of location-aware smartphones.
What if one company could mine that data alongside other publicly available statistics, pulling out patterns and predictions? How could the results help both consumers and advertisers? When it comes to answering those questions, investors are betting $9.4 million on Sense Networks, a 16-employee startup in New York City.
This spring, Sense Networks launched CabSense, a free smartphone application that's been downloaded by more than 11,000 users so far. In New York, where hailing a cab is a timeless -- and often frustrating -- art, CabSense offers a high-tech strategy for improving your chances of flagging one down. Using GPS and Google Maps, the software marks intersections near you with zero to five stars, indicating the likelihood that you'll find an unoccupied cab there.
"If you're in SoHo around 6 o'clock and trying to catch a taxi, you're much better off walking up Broadway a little bit north of Houston," explains Tony Jebara, the Columbia University computer science professor who cofounded Sense Networks.
How does Jebara know that? By crunching vast amounts of data. CabSense's ratings are based on predictive algorithms, which come from his company's analysis of more 90 million rides taken in some 3,000 taxis over the past year.
(New York City's taxis are equipped with GPS and wireless transmitters. Every time a cabbie turns his fare meter on or off, the time and location are transmitted to his cab company. Cab companies forward the data to the New York Taxi and Limousine Commission, which makes it available to the public for free.)
Tobin Schwaiger-Hastanan, 34, a software developer and the co-founder of online dating site Cupid's Lab, downloaded CabSense in April and says he uses it about three times a week. On a recent Friday night he was leaving the Bowery Ballroom, a SoHo club. CabSense directed him to an intersection two blocks away, where he quickly found a taxi. "For people who go out at night, it's a very useful way to find a cab," he says.
Sense Networks doesn't make money from CabSense. Instead, the company's founders see it as a marketing tool: a showpiece to demonstrate what they can do with data.
The same can be said for CitySense, a smartphone application Sense Networks launched two years ago to create a "live map" of San Francisco. CitySense tracks the movements of its nearly 10,000 users and sorts them into different categories. For instance, if CitySense notices that you spend much of your time at inexpensive eateries, late-night clubs and a college campus, it assumes that you're a student. Using a color-coded map, CitySense shows you where other members of your demographic are congregating in real time. Sense Networks plans to launch a New York version of this software in the coming months and is considering several other cities, including Seattle and Chicago, for future releases.
The challenge for Sense Networks is translating all that data-mining muscle data into dollars and cents. Heavyweight investors, including Intel Capital and Javelin Venture Partners, are betting the company can do it.
Sense Networks is now developing partnerships with cell phone service providers to analyze data about their customers, Jebara says. The results would let service providers send advertisements to particular types of smartphone users. A textbook sale, for example, could be marketed to students without spamming business people.
Jebara declined to name the company's potential partners, but said he expects to start making sales this year.
Sense Network's business model poses a secondary challenge, suggests William Clark, a vice president at market research firm Gartner. How do you assure consumers that their privacy is protected? Algorithms like those in CitySense "infer a lot about your personality and your demographics based on just your location," he explains.
Alexander Pentland, a Sense Networks co-founder who has taken on the second title of "chief privacy advocate," says specific users will masked by the crowd. In other words, data will be aggregated from many people; the resulting analyses won't identify individuals.
The biggest hurdle? Sense Networks isn't alone. Apple, Google, Nokia and other industry giants have also plunged into the burgeoning field of context-aware computing, providing services that take into account not only where users are located but also information about who they are and what they're trying to achieve. And, if Clark is right, that field will only keep growing.
How big will it get? Very big, he suggests: "By 2015, context will be to the mobile Internet what search was to the Web."