Everybody hates airlines - except Wall Street
NEW YORK (CNNMoney.com) -- You would think these would be the worst possible times for airlines.
Oil prices are starting to creep higher again. And at the same time, there's continued angst about the health of the global economic recovery and overall market volatility.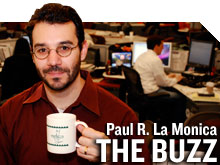 So why is a group of 13 leading airlines stocks now trading at its highest level in over a year?
The NYSE Arca Airline Index, which includes U.S. giants such as American airline parent AMR (AMR, Fortune 500), discounters Southwest (LUV, Fortune 500) and international airlines such as Ireland's Ryanair (RYAAY) and Brazil's GOL (GOL), is up about 9% since the end of April.
By way of comparison, the S&P 500 has plunged 7% during that time frame.
What gives? Hopes that more airline mergers may be on the way following last year's Delta (DAL, Fortune 500)/Northwest deal and this year's United (UAUA, Fortune 500)/Continental (CAL, Fortune 500) merger could be one thing contributing to the rise in altitude for the group.
Shares of US Airways (LCC, Fortune 500), which had been negotiating with United before backing out, have soared more than 50% since May, for example.
This week's pilot strike at privately held Spirit Airlines may also be having an effect. Several analysts have said the strike could lead to a boost in business for rival discounters such as JetBlue (JBLU) and AirTran (AAI).
Also, the reason why most consumers hate airlines - the never-ending series of new nickel-and-dime fees for things like checking bags -- may be helping to boost revenue for what has traditionally been a profit-challenged sector.
The latest new surcharge? American is giving fliers the option to pay extra in order to be able to board earlier.
That all makes sense. But some think that airline stocks taking off may actually signal something else: good news about the broader economy.
"The reality may be that the economy's better than we've been led to believe," said Brian Gendreau, market strategist with Financial Network Investment Corp., a Segunda, Calif.-based advisory firm.
"Despite Europe's problems, the global economy is slowly gaining strength .That should help a number of industries, including airlines," he said.
Sure, there are still many things to worry about regarding the economy. In the U.S., persistently high unemployment levels and the moribund state of the housing market may keep consumers from traveling a lot this summer.
But Kurt Karl, chief U.S. economist with Swiss Re in New York, noted that corporate travel may be starting to pick up. That is a bullish sign for the broader economy.
"A lot of U.S. businesses are quite a bit stronger than they were a year ago. All of a sudden companies are thinking, 'Yes we can go send our people out to fly around on sales calls,' " he said.
Gendreau noted that rising oil prices could be bad news for the group if crude prices continue to rise. But with few expecting the euro to gain significantly against the dollar anytime soon, a further spike in fuel prices may be limited. And Gendreau said the recent spike has to be put in perspective.
"With oil prices around $75, the bad news is it's not 70. But the good news is that it's not $85 or $90," he said.
That's a good point. Airlines, like many other businesses (and consumers for that matter) have been adjusting to higher oil and gas prices for some time now.
So as long as prices don't head back to the record highs of the summer of 2008, there's probably little risk of rising oil prices severely hurting the recovery in airlines or the rest of the economy.
Still, the run-up in airlines may be a case of a hard-hit sector finally finding its footing after years of bad business practices.
Karl said much of the good news coming out of the airline sector is due simply to companies cutting capacity and managing their loads better -- i.e. scheduling fewer flights but packing them to the gills.
In other words, demand may not be rising dramatically. And if you look at other parts of the transportation sector, there are still reasons to worry that the overall economy is on shaky ground.
The Dow Jones Transportation Average, an index that includes five airlines but also has truckers, railroad and logistics companies in it, is down 4% since the start of May. And one of its key components, shipping giant FedEx (FDX, Fortune 500) issued a cautious earnings outlook for the remainder of this year Wednesday morning.

So don't be surprised if airlines hit a bumpy patch if worries about Europe don't go away soon.
- The opinions expressed in this commentary are solely those of Paul R. La Monica.