The Huntsmans: Inside an American dynasty - Full version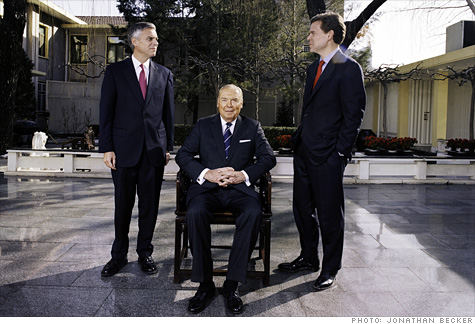 FORTUNE -- Jon Meade Huntsman Sr. brought us Styrofoam egg containers before his 30th birthday and the famed Big Mac "clamshell" sandwich container by his 40th, somehow finding time in between to serve in Nixon's White House. By middle age his close circle of friends included Margaret Thatcher, Singapore's Lee Kuan Yew, and Dick Cheney. Along the way he raised nine children: His eldest -- a former Utah governor -- is now the U.S. ambassador to Beijing, while son No. 2 succeeded him as CEO of Huntsman Corp., a global chemical company with about $8 billion in revenue.
Those accomplishments alone would qualify the industrialist for a place in the annals of entrepreneurship, and indeed, today he is one of the world's richest self-made men, reportedly with a net worth of more than $1 billion. But what makes Huntsman, 73, a true American original is the unparalleled tenacity with which he built -- and repeatedly rescued -- his business empire, mortgaging his own homes or putting up his own money (along with bondholders') along the way. Just two years ago, long after he'd retired as CEO of his eponymous company, he personally went to battle with private equity lion Leon Black, whose Apollo Management backed out of a deal to buy Huntsman Corp. -- and won.
The company celebrates its 40th anniversary this year, and Jon Sr. and his family agreed to a rare series of interviews to tell the Huntsman story: the rise and fall of the corporation and life inside an iconic family dynasty that's one part Marriott (MAR, Fortune 500) (another business clan with Utah roots) and one part Kennedy (only Republican).
I am now on the elder Huntsman's Gulfstream IV over China, where the company has sizable operations, and Huntsman the humanitarian is holding forth: He reminds me that he's given away $1.2 billion in the past 10 years to universities and a renowned cancer research center, among other causes.
But it is only a matter of time before the executive reveals another side of his complex personality -- that of an unabashed capitalist who took huge risks and strong-armed rivals, financiers, and even his own son in his quest to build his business and philanthropic empire. "You're in the game of life to fight," he says. "If you're in business and you're not aggressively building, you shouldn't be in."
Huntsman, who remains executive chairman of the corporation and whose family and foundation hold a 20% stake in it, wasn't just aggressive, he was audacious, leveraging his company in ways not unlike U.S. banks did before the financial crisis. To finance a bold acquisition spree -- Huntsman (TK) gobbled up more than three dozen companies in one decade alone -- he took on piles of high-interest debt: At one point the company's debt was a whopping 15 times greater than its cash flow.
At first Huntsman insists to me that he "didn't have a choice" in leveraging the business, that he started with nothing, that he was rapidly building a global concern and doling it out just as fast to charity. Of course we both know that Huntsman did have a choice: No one else could have put his corporation on a path of growth that would ultimately threaten his company and thousands of employees. I press him on the point, and the real Jon Huntsman emerges again. "It's a game!" he declares before issuing a sharp, jarring laugh. "You call it ego. Okay. I call it sportsmanship, competition. I'd do it all over again."
So there it is. This is the message -- as much as family loyalty or the importance of charity -- that this descendant of Mormon pioneers has bequeathed to his nine children, their spouses, and 56 grandchildren. In addition to 47-year-old Peter, the Huntsman Corp. CEO, half-a-dozen other sons and sons-in-law work for assorted family enterprises. David, 42, is at the helm of an ambitious destination resort under construction in Driggs, Idaho. Paul, 40, is part of a $1.1 billion Huntsman private equity partnership. James, 39, did a brief stint as a Hollywood producer before rejoining Huntsman Corp. as an officer. Son-in-law Richard Durham is a former Huntsman CFO who now runs an investment firm. And one grandchild, this time a woman, is determined to pursue the family business: Peter's 18-year-old, Caroline.
At the helm is a patriarch who combines wily charm, street smarts, entrepreneurial vision, political connections, and certainty that his success rests on a willingness to do battle, alone, against often hostile outsiders. "Everyone has always underestimated a company headquartered in Salt Lake City, Utah," Jon Sr. says. "The New York boys thought they could take me on, that nobody out here has any knowledge or wisdom."
The elder Huntsman's single-mindedness has earned him the admiration and devotion of his offspring, who by all accounts have sidestepped the lawsuits and public brawls that bedevil other American dynasties. But don't look for the same fire from this generation of Huntsmans. In their words, actions, and personalities it is clear that the children -- ambassador Jon Jr., 50, and Peter in particular -- admire but don't seek to emulate their father's way of doing business, opting for management styles that are more inclusive and visions that are more grounded. "I won't say I'm not a risk-taker, but I wouldn't bet the farm 20 times over, like my father did, to get this company going," says Peter. "There were times he leveraged this company up to the absolute hilt. When he'd win, he'd win big. But he's lost a lot more than he's won."
Jon Sr. had a miserable childhood: Picture a teenage boy living with his two brothers and parents in student housing at Stanford, angry at always having to work to support the family so that his schoolteacher father could himself go to graduate school. A father who, despite his Mormon roots, was an alcoholic -- and an abusive one. "My husband didn't grow up in a happy family," says Karen Huntsman, who was charged with "sobering up" and caring for her father-in-law after Jon's mother died of cancer.
The Huntsmans are descended from one of the first Mormons to cross by wagon train through Emigration Canyon, Utah, where the family home now sits. But there is also a more recent vintage of Huntsman: chain-smoking saloon keepers who ran a famed hotel and watering hole over in Fillmore, Utah. Huntsman's own parents weren't devout, but after his rocky youth he vowed to return to the strict, no-booze Mormon lifestyle, to produce a loyal and large family -- and to make gobs of money. His first ticket out came by way of Harold Zellerbach, the paper tycoon, who was impressed enough after interviewing the high school student body president to offer him a scholarship to the University of Pennsylvania's Wharton School. Dropping a teacher's son originally from the rural West into an Ivy League university wasn't an automatic recipe for success. "Jon came from zip," says Karen. "He didn't know how to even tie a tie, and here he was going to school with people whose fathers were cornering the cocoa market." He almost flunked out, but rallied and graduated in 1959.
Dudley Swim, a reclusive Carmel, Calif., millionaire who (like Howard Hughes) was fond of hiring Mormons, offered Huntsman an assistant's job. After he married Karen, whom he met in high school in Palo Alto, Huntsman quit the assistant's gig and took a job at her uncle's Southern California egg business, Olson Farms. A few years later he began to experiment with packaging eggs and in the 1960s partnered with Dow Chemical (DOW, Fortune 500) to produce Styrofoam egg containers. Dow lost interest in the business plan, but Huntsman saw a big future in packaging for an emerging fast-food industry. He spun off his own business, funded in large part by a company he operated on the side that sold $1 albums by singers like Perry Como and Andy Williams at supermarkets.
In 1969 a politically influential Mormon lawyer recommended him to the Nixon White House, where he monitored the flow of documents in and out of the Oval Office. His boss was chief of staff H.R. Haldeman, who would later serve 18 months in prison for his role in Watergate. In his 2008 management book, Winners Never Cheat, Huntsman writes: "Haldeman expected me to be unquestioning. It annoyed him that I was not. I saw how power was abused."
Huntsman left the White House after a year, unable to support his large and growing family on a government salary. He also needed to tend to the fledgling packaging business he had founded with his brother Blaine (whose preference for academia would later lead him to become dean of the University of Utah's school of business). "Our business needed leadership. We had huge losses. I had mortgaged our house, borrowed heavily from the bank," Huntsman recalls.
He began peddling Styrofoam packaging. Across the country in Washington, D.C., the Watergate scandal was breaking, and as Congress mounted its televised investigation, the former Nixon aide waited, nervously, to see whether his own fate would be touched. "One afternoon a car drove up to our office, and two men got out," Huntsman recalls. "I thought they were FBI agents. Watergate had been going on for a year or so, and my name had never bubbled up. I was scared to death. So I told my secretary I'd be leaving out the back door." As it turns out, the men were market researchers from McDonald's (MCD, Fortune 500), carrying the Styrofoam clamshells he had just sold to Burger King. They wanted to buy the product to package their own hamburgers and hotcakes. Jon Huntsman had found his market.
It was touch and go. The company was "small and fragile and always on the brink of bankruptcy. I watched him slug it out with bankers," recalls Jon Jr. In the 1970s and early '80s "there was no thought of legacy or foundations. It was 'How can we pay back the banks?' "
Lines blurred between the Huntsman family and the Huntsman company. Jon Sr. would often take his children to meetings with customers or vendors. Young Peter would stand, awestruck, at his dad's side when the Huntsman brood checked into a hotel -- San Diego's Del Coronado was a favorite vacation spot -- and Huntsman relentlessly nickeled-and-dimed and haggled with some poor clerk. "What next?" Jon Sr. would demand. "You gonna charge me for the air I breathe?" Another child might have cringed. Peter was enthralled.
The first of four times that the Huntsman Corp. almost collapsed came in 1973, when the Arab oil embargo cut off critical supplies of polystyrene (the building block of Styrofoam), and Huntsman had to shut down plants in Ohio and California. "We had nothing -- zero," Jon Sr. recalls. "So I got on a plane for six months to go around the world and barter -- offering other chemicals so we could get polystyrene." He wriggled out of a similar crisis in 1985 before hitting a string of home runs: 35 of the 36 companies he acquired over the next 15 years turned out to be hugely profitable. And Huntsman shrewdly got sellers like Texaco and the U.K.'s Imperial Chemical to help finance the purchases. (When Huntsman executives toured the ICI facilities in England, rumors spread that a bunch of "morons" from Utah were buying the company.)
Huntsman made his entire fortune in the space of those 15 years, from 1986 to 2000. He started doling out hundreds of millions of dollars to charity and founded the Huntsman Cancer Institute, specializing in the research of inherited forms of cancer. A generous donor to Republicans (and later to anyone, including Democrats like Max Baucus, who supported cancer research), Huntsman ran for governor of Utah but quickly found that politics didn't suit his autocratic temperament. He dropped out within weeks rather than face press scrutiny.
"Could Peter have built this company? No way," says Karen Huntsman. "That's my husband: He's driven -- driven to make a difference in the world. That's not my boys, because they didn't have to. Jon is a builder. He believes in people, and he believes in himself." Indeed, Peter had to overcome more than just his father's long shadow to become CEO of Huntsman Corp. He has dyslexia so severe that he never finished college. Smart and serious, he has neither the glad-handing personality of his father or the stage presence of his diplomat brother. He left high school to do a two-year Mormon mission in Spain.
Much later Peter would become a dedicated globetrotter, moving his family to Belgium to oversee the company's European businesses before settling outside Houston (where the company's operations are based). Unlike his father, he can't imagine living in Utah. He's a political black sheep in this Republican family; he voted for Barack Obama and thinks the Iraq war was cover for the U.S. to gain control of Arab oilfields.
But as a young man, he knew only one thing: He idolized his dad and wanted to follow in his massive footsteps. At age 19 he joined the family business, driving big rigs across vast stretches of lonely Western highway, where he relished the metal-pipe immensity of the refineries he serviced. He made $17,500, less than his part-time receptionist wife. As he rose up the company ranks, he found he was good at sales, good at chemistry, and -- like a lot of dyslexics (Einstein, Patton) -- good with the kind of conceptual thinking needed to run a complicated company. He also, it turns out, has the right temperament to deal with Jon Sr.'s constant intervention in company affairs.
Peter was 31 when his father named him -- at Jon Jr.'s urging -- president of the company. It was 1994, and Huntsman Corp., still privately owned, had just doubled its size overnight with a $1.1 billion purchase of Houston-based Texaco Chemical. His father introduced young Peter as the new boss to a roomful of gray-haired senior Texaco executives. They stared Peter down as he nervously uttered a few remarks.
Then he left the room, made a beeline to the nearest toilet, and dry-heaved.
In 2000 his father named him CEO. Within six months, the overleveraged Huntsman Corp. was bleeding $5 million a day, struggling from a sharp spike in natural-gas prices and an oversupply of chemicals in the market. Advisers recommended that the company declare bankruptcy as a way to rid itself of its crushing debt. That's when Jon Sr. took back the reins he'd only recently handed to his son. "I looked at these people and said, 'Don't ever tell me we're going to go bankrupt,' " the elder Huntsman says. "We'll never go bankrupt, because our name is on the door. That is not an option."
Huntsman spent months negotiating with a network of 87 creditors around the world. Peter instituted painful cost cuts, eliminating 2,000 jobs and shutting down several plants. Then, in a fateful move, Peter turned to investor David Matlin, who agreed to rescue the company with a $400 million injection of capital. Matlin would later seek to recoup his investment by insisting that the Huntsmans take their family-controlled company public.
Looking back at the 2000 near failure, I ask Huntsman whether, by stepping back in so forcefully, he wasn't steamrolling his son. Huntsman says he needed to teach his son how to fight. "There are times in life where you have to go all out and survive at all costs," he says. "There was not one banker, not one bondholder, who was not paid their money."
After the crisis abated, Peter steered the company in a different direction, moving out of the packaging and commodity-chemicals business and toward high-end specialty chemicals, which produce higher margins with less volatility. The chemical business -- which feeds off oil products -- is tied to the vagaries of energy prices. "Peter reduced their exposure to energy costs," says Kathy Hall, executive editor of PetroChem Wire. The young CEO also diversified the company's product portfolio, eventually producing chemicals that could be found in some 10,000 products -- ranging from auto dashboards and computer parts to airplane wings and Nike shoes. And he turned the rise of environmentalism -- a headache for all chemical and packaging companies in the '80s and '90s -- into a boon, producing chemical supplies for UV-reflective paints, insulation foams, and windmill blades.
In 2005,* Huntsman went public, a move that made the next generation of Huntsmans overnight millionaires (on paper, at least) and enabled them to pursue their own business and philanthropic interests. Peter was hitting his stride. Then, in 2007, Jon Sr. tried to sell the company that his son was contentedly managing. And again the family's fortunes almost crashed.
Huntsman Corp. had agreed to be taken private by Hexion, a company controlled by Leon Black's Apollo Management, for $28 a share, a good deal for a stock that was then trading under $20. The buyout would have enabled Jon Sr. to cash out and fully fund his philanthropy -- specifically, the Huntsman Cancer Institute. By 2007, Jon -- a three-time cancer survivor who says his life goal is to fund a cure for cancer -- was adding hospital wings to provide a luxurious and comforting setting for cancer patients undergoing chemotherapy and radiation. "I wanted it to look like the Ritz," Huntsman says one afternoon at the Institute as he looks up the elegant foyer stairway at marble imported from India.
Huntsman, operating on the assumption that the $10.6 billion sale of his company would go through, launched a costly expansion of his hospital. He also seeded a range of other businesses, including the Idaho resort run by David and the private equity company. But one afternoon in June 2008 -- with the recession looming and Huntsman's earnings dropping -- Apollo's Joshua Harris called to say the deal was off. Peter and his father were stunned. "It was probably naive on my part to trust those guys," says Huntsman. Apollo's reason for killing the deal? A person close to Apollo says that amid the global financial crisis it acted "ethically, legally," and in the best interest of its investors by shutting down the deal. At the time, Apollo put out a release saying the merger of its Hexion subsidiary and Huntsman would produce an insolvent company. The result: Huntsman Corp. stock tanked to $2 a share, jeopardizing the family's wealth but also spawning chaos at the cancer institute, the main beneficiary of the sale.
Once again the senior Huntsman stepped back into daily operations. "I will fight this until the day I die," Jon Sr. told a reporter at the time. He and Peter both knew the deal with Apollo legally was ironclad and not contingent on Huntsman Corp.'s earnings at any given moment. Attorneys advised them to settle their claims against both Apollo and its banks. But, says Huntsman, "we had to make a fight out of it. Peter was gracious enough and smart enough to turn this over to me."
They took Apollo to court in Delaware and won. Rather than face lengthy appeals, Huntsman met alone with Black, a fellow steely billionaire, to hammer out a settlement. "We didn't have lawyers in the room, so there wasn't anybody there to draw out animosities or ego or ill will," Huntsman recalls.
A $1 billion settlement, which included an Apollo investment in Huntsman, was worked out in less than three days -- and Apollo paid months before the due date. The two billionaires left with a handshake and a dinner date. The banks, from whom Huntsman also sought damages, settled the following year for $632 million in cash and $1.1 billion in loans to Huntsman Corp. The twin settlements added needed strength to the company's battered balance sheet. Asked about the episode, Black issued a statement saying he has great respect for Jon Huntsman and the family's philanthropy, and noted his own $50 million contribution to cancer research, including a donation to the Huntsman Institute.
Having saved his company a fourth time, is Jon Huntsman Sr. finally ready to relinquish control? Perhaps. "I have to say, Peter is coming around to be a tough fighter like his father," says the elder Huntsman. "This world of business is not made for the faint of heart: Armand Hammer told me that as we flew to the Soviet Union in 1988." If Peter begrudges his father's persistent involvement, he won't say so. In fact, he recalls the day of the settlement with Apollo as "one of the happiest days of my life," because it meant he'd get to keep running the chemical business. And he remains enthralled with his father's ferocity. "Could you find my father in China or India? Absolutely not," Peter says. "You can't top this country in creativity and openness and entrepreneurial spirit. American exceptionalism is alive and well." Thanks to that exceptionalism, Huntsman Corp. will, for now, remain a standalone company that will live to fight another day. And with a Huntsman, Peter, for now, firmly at the helm.
--Additional reporting by Katie Benner
*An earlier version of this article stated that Huntsman went public in 2004. The correct year was 2005.