Q&A with Jon Huntsman Jr.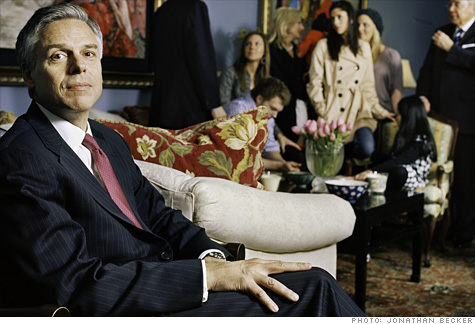 FORTUNE -- Fortune Senior Editor-at-Large Nina Easton traveled to China earlier this year and met with Jon Huntsman Jr., the U.S. Ambassador to China. Huntsman, a Republican and former governor of Utah, is fluent in Chinese. He also is well-versed in the language of business: His father founded Huntsman Corp. (HUN, Fortune 500), a Salt Lake City-based chemical company that ranks No. 293 on the Fortune 500 list of America's biggest corporations. Jon Jr. spoke extensively with Easton about U.S.-China trade issues, intellectual property protection, and the unintended consequences of China's runaway growth. Here are excerpts from that conversation:
During your tenure there have been some strains in the U.S.-China relationship. In your experience, is China becoming more muscular in its dealings, particularly with the economic crisis creating the perception of a weakened U.S.?
It's an oversimplification when many in Washington simply conclude that the Chinese have become grownup and arrogant and muscular. There is some aspect of that, but we can't forget that we're experiencing a cycle of ups and downs that we have seen over the past 30 years.
You have to ask yourself: In today's [media] environment, would it ever have been possible for Richard Nixon to step off the plane and create this relationship that now is $400 billion in size? I'm not sure that ever, ever could have happened.
The biggest change in the relationship over 30 years is the fact that it has gone global. China is now on the world stage. And they are trying to figure out exactly what that means and how appropriately to behave when you've got the eyes of the world on you, expecting you to lead. At forums like the Copenhagen conference and the G-20, people look at China with heightened expectations. You're supposed to take the lead for certain issues, and you've never had to do that before. So there is a transitional period occurring here.
So how, as ambassador, do you address that?
Hopefully we will finally arrive at a point where the cruising altitude, both countries, where we can actually begin to get things done again. But it is never going to remain constant because we will make decisions that will irritate. They will make decisions that will irritate. The relationship will continue to go in cycles. The question becomes: How deep do you want those cycles to get, and how do you mitigate some of that risk?
What does the American business community need to understand about China?
That it is a country in transition whose biggest challenges ahead are domestic. We sometimes read too much into the rise of China without realizing what the country faces. How do you create social safety nets to accommodate a population in transition? When you've got four grandparents, two parents, and one child, you've got problems. Just do the math.
How do you take 800 million farmers and transition them into the [only] 200 million workers that you'll need without having a huge itinerant workforce that is roaming around creating instability domestically?
How do you deal with a growing economy where inflation may be a factor in the years to come, where real estate bubbles might be as real as the ones that we encountered in the last couple of years, where you are not going to stay in a growth trajectory forever?
U.S. industry is up against huge barriers here, from intellectual property rights to "indigenous innovation" efforts by Beijing to protect domestic producers. Any bright spots for American business?
Absolutely. Stop and think about it: over the next 15 years China will be building as much commercial real estate as we have in our entire inventory in the United States. Just try to get your mind around that. And that construction includes the best of what the world has to offer in energy efficiency and in building codes. This carries with it enormous export opportunities for the United States and, by extension, job creation possibilities.
I actually feel like I am a social anthropologist sometimes because I when I go out and do the field work -- speaking to local chambers and business groups around the country -- you get a sense of how companies are doing and generally companies are doing well here, and the profits are helping to support their needs at corporate headquarters. That isn't to say we don't have challenges longer term opening Chinese markets. But the companies that are up and running are doing pretty well.
Second, when we look at trade flows, $500 billion between the U.S. and China, let's recognize how far we've come and how many obstacles have been removed. And let's put in perspective the reality of a relationship that size -- with only 2 to 3% of its trade relationship caught up in disputes.
Let's turn to politics. What do you think of the state of the Republican Party right now?
I think it's going through a growing phase. Where it goes I don't know. But I believe in letting a thousand flowers bloom. Let people speak out. Let them appear on the steps of capitols around the country and express their grievances and organize around those issues. Then let's see where all this debate takes us in the next year or two. That will produce a better outcome than shoehorning the party into any one set of ideology or behind any one set of candidates.
Did you feel like you'll fit into this party when you return to the U.S. and possibly pursue your political career?
I don't worry about that. I've never been a party person per se. I've always believed in doing what is right for the people I represent. And I am, in the end, a public servant who considers it a great honor to serve. You forget sometimes as a politician you represent people and you represent all the people who were part of that election, whether they voted for you or not.
And sometimes that takes you in directions that aren't always consistent with orthodoxy. I believe this goes back to the Huntsman family trait -- being a little contrary from time to time.