Fannie Mae, Freddie Mac to delist from NYSE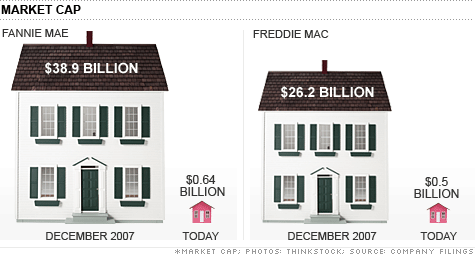 NEW YORK (CNNMoney.com) -- Mortgage finance giants Fannie Mae and Freddie Mac were ordered by their federal regulator to no longer trade their shares on the New York Stock Exchange, the agency announced Wednesday. Both stocks plummeted on the news.
The Federal Housing Finance Agency (FHFA) and its predecessor agency have overseen the operation of Fannie Mae and Freddie Mac since September 2008, when they were both placed under conservatorship, a form of control similar to what is found in a bankruptcy process.
Since that time, the Treasury Department has poured $83.6 billion into Fannie Mae and $61.3 billion into Freddie Mac to cover losses on the trillions of dollars worth of mortgage-backed securities they own or guarantee.
Billions of additional losses are forecast in coming years, with the Congressional Budget Office estimating that nearly $400 billion in tax dollars will eventually be needed. The government controls the majority of the shares of each firm.
The Obama administration has used the blank check that Congress authorized to bailout the firms in July of 2008 to try and help shore up the still weak U.S. housing market.
Fannie Mae and Freddie Mac remain a key source of funding for banks and other mortgage lenders. Without Fannie Mae and Freddie Mac, lending to home buyers would have completely dried up, home sales and new housing construction would have fallen even more sharply and homes would have lost even more value.
But while the money given to Fannie Mae and Freddie Mac helped put a floor under the U.S. housing market and overall economy, the two firms have continued to hemorrhage money.
The two firms posted combined losses of $93.6 billion in 2009 and another $18.2 billion in the first quarter. The Obama administration had said it would lay out its plan for their future at the start of this year, but has yet to do so.
FHFA said in a statement that the planned delisting is due to the weak stock price for both firms, and not due to any determination about a change in condition at the firms or decisions about their futures.
"A voluntary delisting at this time simply makes sense and fits with the goal of a conservatorship to preserve and conserve assets," said FHFA's acting director Edward DeMarco in the statement announcing the move.
Fannie Mae's shares have hovered near the $1 level that is the minimum required by the NYSE since they were placed into conservatorship, while Freddie Mac's shares have typically traded at less than $2.
Shares of Fannie Mae (FNM, Fortune 500) and Freddie Mac (FRE, Fortune 500) both plunged about 50% in late-morning trading. Fannie Mae fell to 45 cents, while Freddie Mac was trading at 61 cents. Each firms' shares are eventually expected to trade publicly on the over-the-counter bulletin board, also known as pink sheet trading.