The euro is still trash
NEW YORK (CNNMoney.com) -- It became fashionable over the past few weeks to proclaim that the euro was on a non-stop collision course with dollar parity. It was obvious that the euro would continue to sink like a stone.
But someone forgot to tell investors that. The currency markets have been as unpredictable as that tricky Adidas Jabulani soccer ball in the World Cup.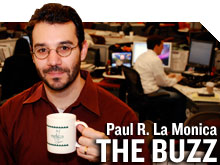 Since falling to a new four-year low of about $1.188 last week, the euro has since bounced back 4% and is now hovering around $1.24. A 4% move may not sound that dramatic but in the usually slow-moving world of currencies, that qualifies as a bona fide surge.
The rally in the euro has helped lift the stock market as well. With fears starting to dissipate somewhat about a sovereign debt euro-pocalypse, investors are breathing a sigh of relief.
But that sense of calm may not last for long.
For one, the euro's bounce has to be put in some perspective. Even with the move in the past week-and-a-half, the euro is still well below where it was at the end of last year.
"We went from $1.50 to $1.20 in a short period of time. In the grand scheme of things, does a 4% move after a 20% devaluation really matter?" said Andrew Busch, global currency and public policy strategist with BMO Capital Markets in Chicago.
The good news for Europe, and U.S. investors who had been freaking out about how a possible economic slowdown across the pond would affect profits of firms with a major European presence, is that the panic may be over.
But that's not the same thing as the worst being over for Europe.
"So far, the forces behind the euro bounce are probably just calmer financial markets as opposed to any positive developments about Europe itself." said Vassili Serebriakov, a currency strategist with Wells Fargo in New York. "There may be some more stability in the sovereign debt market but I don't think this is a turnaround for the euro."
Serebriakov said that many hedge funds and other money managers had heavy short bets against the euro, i.e. they were betting that it would fall. So some big investment firms may simply be buying the euro to close their position now that the headlines about Europe are less dire.
Busch agreed. He conceded there is not as much worrying about Europe, especially after a relatively successful auction of Spanish bonds Thursday. Spain, in case you haven't heard, is one of five so-called PIIGS nations in Europe.
But he added that the problems facing Portugal, Ireland, Italy, Greece and Spain are far from over. That means the euro is likely to eventually resume its slide against the dollar.
"There are serious structural problems that Europe will be dealing with for a long time," Busch said.
In fact, some governments around the world may be souring on the euro, which not that long ago was viewed by some as being a possible replacement to the dollar as the world's reserve currency.
Earlier this week, data from the Treasury Department showed that China, Japan, the United Kingdom and other nations increased their holdings in U.S. debt in April.
It's widely believed that the reason for doing so was that the dollar and assets tied to it, such as U.S. bonds, were being viewed as a safe haven in the midst of all the concerns about the euro.
What's more, there have been reports in recent days that central bankers in Russia, which ironically enough was one of the nations that had once touted the merits of the euro over the dollar, may be looking to scale back on the euro and add stronger currencies like the Canadian and Australian dollars to Russian reserves.
"If more reserve managers come out like Russia and talk about reducing exposure to the euro, that's going to be bad for Europe," Busch said.
Still, the euro is probably not going to go into another free-fall. Michael Woolfolk, senior currency strategist with Bank of New York Mellon in New York, said the drop that it already experienced was dramatic enough.
"There is a speed limit for the devaluation of currencies. It's rare to have a currency move more than 20% in any 12-month period," he said,
In addition, concerns about the recovery in the U.S. are likely to keep a lid on the dollar.
"Fundamentals in the U.S. are questionable. The Fed has not raised interest rates and interest rates in Europe are higher than ours," Woolfolk said. "It may be premature to get overly bullish on the dollar."
But even though few expect the euro to plunge as precipitously as it did earlier this year, it's hard to imagine better times ahead for the euro either. The story in Europe may be just a case of things getting "less bad" as opposed to improving.
"The euro can probably transition to having a more orderly decline, but it's a decline nevertheless. There is no quick fix for the euro," Serebriakov said.
Frank the Tank. Shares of Bed Bath & Beyond are down 6% today. Not seeing a reason to explain the sell-off. But I took the drop as an excuse to issue another silly movie quote trivia challenge over on Twitter. It was an easy one.
"Maybe Bed Bath & Beyond, I don't know, I don't know if we'll have enough time."
Several followers were quick to identify the quote as being from "Old School." But Ethan Elser wins the Buzz shout-out for being the first to cite Will Ferrell's sad line about his Saturday morning plans. Shares of Home Depot are down too by the way.
- The opinions expressed in this commentary are solely those of Paul R. La Monica.