Anadarko blasts BP for 'reckless actions'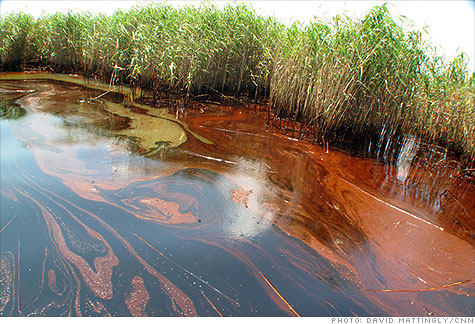 NEW YORK (CNNMoney.com) -- Anadarko Petroleum, a minority partner in the ruptured well in the Gulf of Mexico, blamed BP for "reckless" behavior, seeking to distance itself from the worst oil spill in US history.
"The mounting evidence clearly demonstrates that this tragedy was preventable and the direct result of BP's reckless decisions and actions," Anadarko chief executive Jim Hackett said in a statement issued late Friday.
Anadarko, which owns 25% of the Macondo well where the Deepwater Horizon rig was drilling, signed a contract saying that it would pay a quarter of the costs associated with the well, unless BP is found guilty of gross negligence.
"BP's behavior and actions likely represent gross negligence or willful misconduct and thus affect the obligations of the parties under the operating agreement," Hackett said.
On April 20, an explosion on the Deepwater Horizon killed 11 workers, and the well is now spewing millions of gallons of oil into the Gulf of Mexico.
As the operator of the well, BP was responsible for all the planning and the day-to-day activities on the Deepwater Horizon, according to Anadarko. As a non-operating investor, Anadarko said it was reliant upon BP to make "appropriate decisions" on the rig.
According to congressional documents and interviews with workers on the rig when it exploded, it appears BP chose faster, cheaper techniques for drilling this well, sometimes against the advice of its sub-contractors.
BP quickly issued a statement Friday saying it strongly disagrees with the allegations, and that Anadarko is refusing to accept responsibility for oil spill removal costs and damages.
"These allegations will neither distract the company's focus on stopping the leak nor alter our commitment to restore the Gulf coast," BP chief executive Tony Hayward said in a statement.
Hayward went on to say that "other parties besides BP" may be responsible for costs related to the oil spill, and that he expects those parties to live up to their obligations.
BP has stated repeatedly that it will pay all legitimate claims related to the spill. The company established a $20 billion fund earlier this week, under pressure from Washington, to compensate fishermen and other Gulf Coast businesses hurt by the spill.
However, it remains unclear how much BP will ultimately have to pay for the spill. Estimates have ranged from as low as $11 billion to upwards of $100 billion depending on how much oil is flowing from the well, and whether BP is found guilty of gross negligence in court.