Fed: U.S. recovery hurt by overseas woes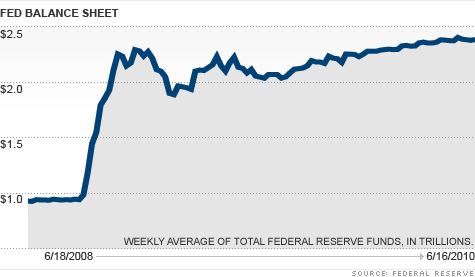 NEW YORK (CNNMoney.com) -- Federal Reserve policymakers believe the U.S. economy is still recovering, but they acknowledged the pace of growth has slowed over the past two months, due greatly to problems overseas.
The central bank's rate-setting committee said that the "economic recovery is proceeding," but that is less bullish than what the Fed said in a statement following its last meeting in April. Back then, the Fed noted "economic activity has continued to strengthen."
In its statement Wednesday, the Fed cautioned "financial conditions have become less supportive of economic growth on balance, largely reflecting developments abroad."
The Fed kept the federal funds rate, its key short-term lending rate, near 0%, where it has been since December 2008. The rate is used as a benchmark to set the interest paid on a wide variety of borrowing by consumers and businesses. The Fed reiterated that rates would remain "exceptionally low" for an "extended period."
Since the Fed's last meeting, concerns about the risk of sovereign debt defaults in several nations in Europe have roiled financial markets, stirring uncertainty about whether the global economic recovery is in danger of stalling.
While the Fed said it doesn't expect the problems in Europe to knock the U.S. economy back into recession, it again cautioned against expecting robust economic growth, saying the recovery is "likely to be moderate for a time."
"If things stay where they are now, the Fed will be reasonably happy. Panic in the markets is what they're really worried about," said David Wyss, chief economist for Standard & Poors.
The Fed said it does not see any risk of inflation that might force it to raise rates soon. But Kansas City Federal Reserve President Thomas Hoenig again objected to the promise of low rates for an extended period, arguing that this could lead to the growth of asset bubbles and financial market instability in the future.
Hoenig has called in recent months for a modest rate hike this summer. But once again he was the only dissenting vote.
In fact, some economists wonder whether the Fed will have the necessary tools to restart economic growth if the U.S. falls into another recession.
Besides cutting rates to near zero, the Fed pumped trillions of dollars into the economy over the last few years through the purchase of assets such as long-term Treasuries and mortgages. But those programs have been completed.
The Fed did not give any hints about what steps it might consider should it need to spur greater growth, saying only that it would "employ its policy tools as necessary."
"They're not throwing up their hands and saying the sky is falling, but there's definitely concern," said Dan Cook, senior market analyst with IG Markets. "This statement doesn't convince me that they have all that much ammo left."
Cook said even if the Fed started buying mortgages again in order to push rates down further, it's not clear that would help the still struggling housing market. Mortgage rates are already near record low rates even with the Fed no longer buying mortgages.
Sung Won Sohn, economics professor at Cal State University Channel Islands, said the Fed is clearly very concerned about the risk that the recovery could stall out.
The Fed pointed out that bank lending has continued to contract, housing starts remain at a depressed level and consumer spending is still limited by high unemployment.
But while it said the labor market continues to improve, it cautioned that employers remain reluctant to hire.
"We all agree there are limits to what the Fed can do," said Sohn. "If the labor market doesn't improve significantly, then the recovery would stall and the Fed would have to reassess its policy."