Newsweek, brought to you by...China?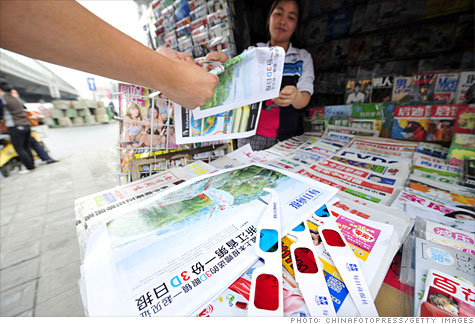 FORTUNE -- China is no longer content to merely be covered by American media. It now wants to own it.
China-based Southern Media Group confirmed last week that it partnered with Chengdu B-Ray Media for a bid to buy Newsweek magazine from its owner, the Washington Post Co. Perhaps not surprisingly, the offer was roundly rejected.
After losing nearly $30 million in print advertising revenues during the past two years and experiencing a 31% plummet in its first quarter revenue this year, the 77-year-old magazine was put on the auction block in early May. Washington Post CEO Donald Graham said Newsweek had no clear path to profitability.
Washington Post Co.'s (WPO, Fortune 500) reason for rejecting the Chinese media group's bid remains undisclosed. Since the deadline for Newsweek bids on June 2, no other serious suitors have announced they've been rejected. A Washington Post spokeswoman declined to comment.
In an interview with The Hefei Evening News newspaper in Anhui province, China, Xiang Xi, the executive editor of Southern Weekly, a popular Southern Media Group publication, said there was no clear-cut reason for the rejection.
"Personally, I feel the reason is quite complex, but there is one point that can be made: The seller genuinely does not comprehend the desires of idealistic Chinese media workers and institutions," he told the paper.
Southern Media Group is a state-owned media conglomerate that oversees a number of newspapers, magazines, and websites, including Southern Daily and Southern Weekly, two popular publications based in Guangzhou, China. It stands out from most Chinese news organizations in that it's widely known for its liberal editorials and investigative journalism.
Following the recent string of suicides at a Foxconn manufacturing plant in Shenzhen, Southern Weekly published an expose written by an intern who lived and worked undercover in the plant for 28 days, giving both Chinese and international readers some insight into a Foxconn factory worker's daily life.
But just because Southern Media Group is known to aggravate the political establishment won't be enough for a U.S. media company like the Washington Post to consider brokering a deal. According to Reporters without Borders' 2010 worldwide index of press freedom, China ranks 168th out of 175, coming in just before Burma, Iran, North Korea and other countries choked with free press limitations.
Unwelcome investment
And while there is no precedent for China taking stakes in American media outlets, its investments into other U.S. industries have been met with great skepticism. When Chinese-owned affiliates took significant stakes in Bear Stearns, Blackrock (BLK, Fortune 500) and Morgan Stanley (MS, Fortune 500) at the cusp of the credit crisis, investors and lawmakers questioned their intentions and some pushed to prohibit more investments.
If owning stakes in our banks created such backlash, the idea that the Chinese government could buy up Constitutionally-protected news organizations sounds downright preposterous.
But that's not stopping Southern Media Group, at least not yet. "Even though the purchase of Newsweek failed, the search for investments will continue," Xiang said. "Any media of global influence, regardless of medium, who has an interest to attract mainland Chinese shareholders, can get in touch with us."
He even gave out his personal e-mail address to the interviewer, suggesting that interested parties should contact him. Xiang declined to comment for this story.
The news of the rejected bid leaves many questions unanswered. Not the least of which is why Newsweek? With its staggering losses and shrinking circulation, the magazine is not an opportunity for a quick turnaround on profit. Then again, neither was Bear Stearns.
Xiang says that Southern Media Group and B-Ray Media's motivation to make a bid was "a spontaneous move" to seek a "global communications platform that everyone has always been striving for."
It appears that China's first-ever media bid for a U.S. household title was little more than a knee-jerk reaction to an open opportunity. It may come as a shock to some, but it shouldn't. In 2009, Beijing announced that it set aside $5.6 billion for worldwide Chinese media expansion, although much of that is expected to fund the expansion of CCTV, a global multilingual news service similar to Al Jazeera from the Middle East.
As David Shambaugh, Senior Fulbright Research Scholar at the China Academy of Social Sciences Institute of World Economics and Politics in Beijing, notes in his June 7, 2010 International Herald Tribune editorial, the Chinese government is encouraging all state media organizations to zou chuqu -- to go out and "establish a foothold in the international media environment and think-tank world."
The American media industry may well be struggling, but even in these brutal times it's hard to imagine a big publisher agreeing to Chinese control in exchange for a Chinese infusion.