Wal-Mart, Best Buy, RadioShack: No iPhone 4 for walk-ins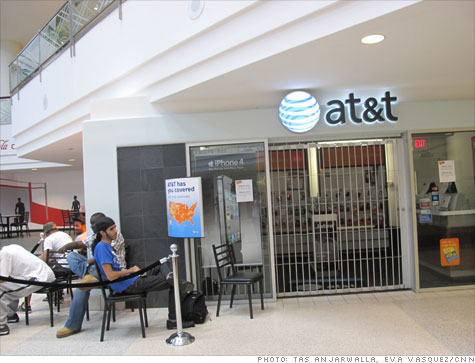 NEW YORK (CNNMoney.com) -- IPhone seekers hoping to avoid days-long lines thought they'd have an ace in the hole: retail outlets other than Apple's stores. Apple partner AT&T warned potential buyers that it wouldn't have inventory for walk-in buyers until next week, but Wal-Mart, Best Buy and RadioShack all announced plans to have "limited" supplies available Thursday for shoppers who didn't pre-order the iPhone 4.
That was the theory. The reality hasn't played out so smoothly.
Wal-Marts around the country said that their iPhones were in short supply, and Twitter was ablaze with customers reporting from Wal-Mart stores that had just one or two of the devices in stock.
An Evansville, Ill., Wal-Mart said it had exactly one unreserved iPhone 4 available when it opened. But don't race out the door: It's already sold.
Only 1,500 of the 3,600 Wal-Mart stores in the United States are offering the phone on Thursday, according to company spokeswoman Ashley Hardie, though more stores will sell the phone after the launch day.
"They can't get here soon enough!" Wal-Mart (WMT, Fortune 500) spokeswoman Melissa O'Brien added.
A spot check of two Best Buys and multiple RadioShack stores in New York City found no phones available for customers who hadn't claimed them in advance.
But a few pockets of inventory emerged: A Best Buy on 62nd Street had a stash of 16 GB iPhone 4s available for sale mid-afternoon. Store employees wouldn't say how many were left.
"Inventory remains constrained, and it is expected that many of the iPhones that Best Buy receives will go first to customers who reserved one during presale," Best Buy (BBY, Fortune 500) warned Wednesday in a statement. The company said availability would vary store by store, and that customers should call before heading out to pick up a phone.
To prevent long lines at Apple and AT&T stores -- the only places to get the iPhone on the first day of sale in past years -- Apple (AAPL, Fortune 500) delivered devices to Best Buy, RadioShack and Wal-Mart stores across the country. But the inventory was not enough to meet the wild demand for the phone.
One RadioShack on 23rd Street in Manhattan said Apple had given it just eight iPhones -- total. They were all reserved for pre-orders, but the store said that it would make them available to walk-ins at noon if they weren't yet claimed.
Another RadioShack, on 57th Street, went through its scant inventory so fast it wasn't able to fulfill all of its pre-orders. One block away, a RadioShack store that didn't accept pre-orders -- it stuck with first-come, first-served -- sold out fast amid hectic demand.
Best Buy, which planned to have very limited iPhone stocks on hand, had no one in line at its Fifth Avenue outpost right before its opening.
But that was for the best, since that store didn't have a single iPhone 4 on hand for walk-in customers, according to a manager preparing for an early open. Customers who pre-ordered through Best Buy would be able to pick up their phones at scheduled appointment times throughout the morning, he said.
RadioShack (RSH, Fortune 500) did not immediately return requests for comment.
AT&T (T, Fortune 500) announced last week that it won't start selling the iPhone 4 to walk-in buyers until June 29, and it stuck by that statement Thursday morning. Customers who turned up seeking one were set away.
Daniel Karbowitz, 32, lost his iPhone 3G last week and hoped to replace it with the latest model. When the AT&T store broke the bad news, Karbowitz set out for the nearby Apple store.
"I'm not optimistic," he said. "I hope I can get one today, but Apple likes keeping a scarce supply of their newest products."
Demand for Apple's new phone was 10 times higher than it was for the previous version, the iPhone 3GS, according to AT&T. Apples said it sold 600,000 devices on the first day of pre-sales.
The unanticipated demand crashed AT&T's servers, and a number of customers were unable to pre-order the iPhone 4 last week. AT&T stopped accepting pre-orders after just one day. It's waiting for Apple to restock its inventory.
Meanwhile, the iPhone's availability -- or unavailability -- at other retail outlets did nothing to quell demand at Apple's flagship store on Fifth Avenue in Manhattan. Thousands lined up at the store Thursday morning, with many saying they came because they heard the phones would be in short supply.

With a line still out the door, the Apple store on 67th Street in Manhattan ran out of inventory mid-afternoon for customers who didn't pre-order. Just after 2 p.m., the store closed down its walk-in line. Managers said they would take stock of their remaining supplies and see if the could re-open the queue later Thursday.