BP stock: How low can it go?
NEW YORK (CNNMoney.com) -- BP's stock price, which hit a new low, could continue falling over the next few weeks as uncertainty around future costs to the company grow, analysts said Friday.
The beleaguered oil giant's stock fell 6.1% to $26.96 a share Friday, piercing the $28.56 low set in the previous trading day. The stock is now down nearly 53% since April 20, when its Deepwater Horizon oil rig exploded in the Gulf of Mexico, killing 11 workers.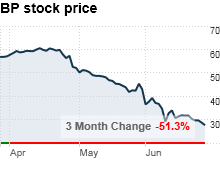 BP's stock held steady above $29 a share for a time -- propped up by the company's decision to suspend its dividend for the remainder of the year and the removal of CEO Tony Hayward from day-to-day leadership of the cleanup operations -- before falling late in the week amid a sell-off in the broader equity markets.
But some analysts say that an end to the downward spiral could be far from reach, as investors offload the stock on fears that cleanup, legal and regulatory costs could soar.
"BP's now in the crosshairs of every regulator and politician known to man," said Tom Orr, head of research for Weeden & Company. "The stock could go into the teens for all we know."
BP said that it has so far spent over $2 billion on cleanup. And last week, under pressure from the government, the company agreed to set aside $20 billion in an escrow account for spill-related costs, an amount that does not cover fees and penalties that could be imposed by the federal government.
Analysts say the sheer magnitude of the oil spill, seen as the worst environmental catastrophe in American history, and the impact on Gulf workers, will likely result in a costly legal overhang for years to come, making it difficult to value the stock today.
"The issue here is that it's a stock that has an unquantifiable liability. It's hard to forecast," said Jason Gammel, an analyst at MacQuarie Research.
Yet, that has not deterred some from touting it.
Some analysts have recently called the stock a 'buy,' despite recent downgrades by credit rating agencies, saying that its financial resources outweigh the potential cost of the oil spill.
"Although this spill is astronomical, we have to remember that big oil companies like BP could still make astronomical profits and it has a lot of attractive assets it can sell to make money," said Phil Flynn, senior market analyst at PFG Best. "I'm still confident that BP will avoid default."
Still, Flynn conceded that there is cause for investor confidence to erode, given the unknown potential for political backlash, and even hurricane forecasts, which could hamstring cleanup efforts.
Whether BP's stock continues to decline or rebounds hinges on the successful completion of the relief wells, says Pavel Molchanov, an analyst at Raymond James, a solution that BP estimates could take another three to four weeks. Until then, Molchanov says, there aren't a lot of reasons to buy the stock.
This could further punish the company's market capitalization, which has fallen to $85 billion, from more than $160 billion since the oil rig explosion in April, leaving BP quite vulnerable.
"BP's market cap is eroding and its ability to finance itself in the capital markets is impaired," said Orr. "It's anybody's guess what can happen, but the fear of the market is that the liability could be so enormous that BP may have to seek bankruptcy protection."