Job blues for gray-haired workers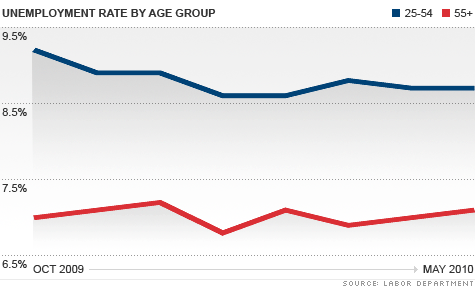 NEW YORK (CNNMoney.com) -- Companies are starting to hire again, but many are turning their backs on older job seekers.
Statistics from the Labor Department show the employment outlook is improving for most workers. The unemployment rate for those in the 25 to 54-year-old age group has fallen from a record high of 9.2% in October to 8.7% in May.
But the nationwide unemployment rate for older workers -- while lower than that of younger workers -- has barely moved since hitting a record high of 7.2% in December. It's currently 7.1%.
"All the gains we've seen from the peak last fall to now, they've gone to people less than 55 years old," said Heidi Shierholz, labor economist with the Economic Policy Institute.
Experts also said the unemployment rate for older workers may be artificially low. Older workers are more likely to become discouraged and stop looking, thus no longer being counted as unemployed in the government figures.
The divergence in job prospects for older and younger workers is new. In past recessions, the unemployment rate for the different age groups generally moved in tandem, said Shierholz.
But the problem for older job seekers could get even worse. That's because they are much more likely to be among the long-term unemployed, which will make it more difficult for them to eventually find a job.
In May, 60% of older unemployed workers had been out of work six months or more, while 43% have been without a job more than a year.
Sandra Kay Barnes, 60, of Daytona Beach, FL, has been out of work nearly two years and her unemployment benefits just ran out last week. She lost her job as an assistant to an insurance broker when the firm she worked at downsized and laid off its most recently hired workers, she said.
Despite sending out thousands of job applications since then, Barnes said she has been able to get only a handful of interviews and no offers.
"I've been told I'm in the top five applicants for jobs, but I never get a callback. It's terrible that you're looked at as a second class citizen," she said, adding that she's worried about how she'll manage her expenses if she can't find a job soon since she is two years away from collecting some portion of Social Security benefits.
The earliest a person can collect Social Security is 62, but is not the full retirement age.
Still, John Migliaccio, director of research for the MetLife Mature Market Institute, said there has been a pick up in the percentage of 62-year olds who have started drawing their benefits, even though that will result in a 25% cut in benefits they'll receive the rest of their lives.
Migliaccio said many people don't have a choice because they can't wait until they turn 66 to receive full benefits.
There's also evidence that more older Americans are withdrawing funds from already depleted retirement accounts in order make ends meet, sometimes suffering tax penalties when they do so.
"There's a large number of involuntarily retired," said Tim Driver, CEO of RetirementJobs.com, which specializes in helping older workers find jobs.
Driver said part of the problem facing older job seekers is a worry among employers they will face legal problems should they need to lay them off or fire them in the future. He said because of that an increasing number of employers are only taking on older workers on a contract basis.
But Driver said some businesses do see the advantages of hiring older workers.
Besides the opportunity to get the experience and lifetime of skills that older workers bring with them, they are actually more likely to stay put for longer than younger workers, thus reducing job turnover and the costs associated with hiring and training.
Driver said "the most analytical" managers have figured this out. Unfortunately for older workers, it's not common knowledge just yet.