Welcome to the BBQ recovery: Low and slow
NEW YORK (CNNMoney.com) -- It's now safe to dig a hole and bury the V-shaped economic recovery. It's dead.
Stocks plunged Tuesday. Wall Street's favorite gauge of fear, the VIX, shot up 15%. The yield on the benchmark U.S. 10-year Treasury fell below 3% for the first time since April 2009.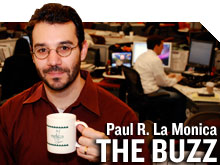 Volatility is back and traders are flocking to so-called safe havens. Investors are once again very jittery about the health of the global economy -- and with good reason. Europe remains a mess. There are even now some worries that China may be slowing as well.
But first and foremost, continued signs of sluggish job growth and weak demand for housing in the U.S. show that the rebound from the Great Recession is not going to be sharp and fast like a letter V.
It will more likely be, as I like to refer to it, the barbecue recovery. Low and slow. The low refers to subpar rates of growth and the slow indicates that a recovery is probably going to unfold over a long period of time.
Should we really be surprised though? It definitely seemed before the markets started to tank in May on fears about Europe that the run-up in stocks from March 2009 was a little excessive. Investors were starting to believe this fantasy, that it would take only a year or so to fully recover from the Great Recession.
How could the economy really rebound so rapidly considering that the downturn was caused by years, if not decades, of excess in the housing, stock and credit markets?
"I always thought it would be a modest recovery, but some people revised their expectations last year for a more robust recovery," said Milton Ezrati, senior economist with Lord Abbett, an investment firm in Jersey City, N.J. "The latest numbers and market sell-off are bringing us back to reality."
Ezrati said there were false hopes earlier this year about a housing market comeback because of the homebuyer tax credit that expired at the end of April.
He argued that anyone who was thinking of buying a house this year probably rushed to do so to receive the credit, but that the credit probably didn't create much new demand for housing. It just pulled sales forward, which means the rest of the year's sales figures may not look as strong.
"Anyone that was going to buy a house and could qualify for a mortgage did their best to come in under the wire. But nobody who wasn't already looking to buy was going to go into debt for over $200,000 just for an $8,000 tax credit," he said.
That's likely to remain the case as long as the unemployment rate remains relatively high -- and economists expect it to rise slightly in June to 9.8%.
Even those who make their living by trying to get people to buy more products acknowledge that the days of wanton consumer spending are probably gone for good.
"Consumers have gone through a level of behavioral change that has never happened before in this country," said Andrew Benett, global CEO of Arnold Worldwide, an ad agency headquartered in Boston. "If anyone wants to bet on consumers acting like they were before the recession, I'd take that bet. You won't see that again. Anxiety remains high."
Consumers aren't the only ones that are nervous. Companies are also starting to dial back their profit forecasts for the remainder of the year, another sign that the economic recovery may be tepid.
"People have to readjust their expectations. Earnings expectations are being lowered as well," said David Joy, chief market strategist with Columbia Management, an investment firm in Boston. "Growth is going to be subdued. It won't be spectacular here or in Europe by any means."
Still, experts said it's important for investors and consumers to not panic. There is a difference between slower growth and another recession, a phenomenon known as a double-dip. While some economists think a double-dip is possible, it's still unlikely.
"It's going to be a prolonged moderate recovery but not a double-dip," said Larry Rosenthal, president of Financial Planning Services in Manassas, Va. "But in an immediate gratification world, the recovery is not taking place quickly enough. People want a recovery right now and investors are running out of patience."
Ezrati agreed. He said consumers and investors may be overreacting to every piece of data that isn't positive. Everyone is afraid of being blind-sided like they were before the 2008 credit crisis.
"No matter how many people now say they saw the debacle in 2008 coming, few did. That makes people now more prone to see disaster around every corner," he said. "It's not a second dip, just a slower recovery."
But that's little consolation for many consumers and investors who feel as if the recession never ended in the first place.
Lunacy has found me: All the excitement about the Tesla Motors IPO got me thinking about how other companies tied to the electric car business are faring. I tweeted Monday about how shares of lithium-ion battery maker A123 were up ahead of Tesla's pricing. Of course, my fevered mind then turned to .. song!
In the latest of my wacky pop culture challenges, I asked my Twitter followers to identify the band behind this lyric: "Cannot kill the battery!"
Daniel Miller, who goes by the name wallstreetbean over on Twitter, very quickly pointed out that it was none other than Metallica. And I'm guessing he's a big fan. "and on the 8th day God said, Let there be metal, and let it be heavy," he wrote.
Metal militia indeed.
- The opinions expressed in this commentary are solely those of Paul R. La Monica.