Google vs. China: Search giant blinks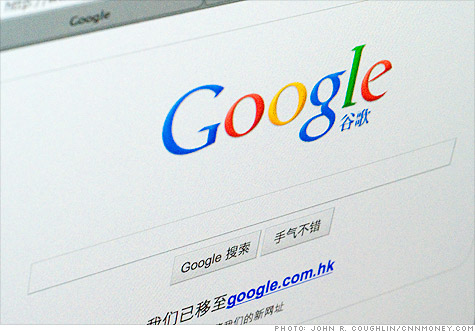 LONDON (CNNMoney.com) -- Google slightly altered its business strategy in China late Monday in an attempt to balance the company's desire to keep its Chinese website with its goal of avoiding self-censorship.
Google for the past three months has been automatically redirecting visitors to its Chinese site, google.cn, to its Hong Kong search engine, google.com.hk. Though Google does not sensor results on the Hong Kong site for users in mainland China, the Chinese government does.
Still, Chinese government officials told the search giant that it finds the auto-redirect "unacceptable" and would likely revoke Google's license to operate in country if it continues that practice, according to a company blog post.
As a result, Google said that over the next several days, it will stop automatically directing its mainland Chinese users to its Hong Kong search engine. Instead, it has begun to display a "landing page" on google.cn for some users, which requires users to click on an image that links to the Hong Kong site.
The search company also once again began hosting some search content on its Chinese servers, including maps, music, and translation services, which can be provided locally without the need for censorship. That content is hosted on google.cn and can be accessed on google.com.hk for users from within mainland China.
Google's license is up for renewal on Wednesday, and the company said it has resubmitted its renewal application based on its new approach. The company said its new strategy is consistent with local law and its commitment to not self-censor.
"We are going with this new approach because we would like to try to provide our service to Chinese users," Google China spokeswoman Marsha Wong told CNN.
Google (GOOG, Fortune 500) had been using the automatic redirect after deciding it would no longer censor results in China. Google stopped censoring search results in China in March. Its stance against censorship of its China site toughened after Google announced in January that it had discovered a targeted cyber attack on its network infrastructure.
To circumvent China's strict censorship laws, Google no longer hosts its search operations within mainland China -- it physically moved all of its Chinese servers to Hong Kong. As a result, Google no longer needs to adhere to China's censorship laws, and it is up to the Chinese government to block access to the results it finds objectionable.
The arrangement is similar to how Chinese users have long been able to access Google's main search page, the uncensored google.com: The Chinese government allows access to some result pages and blocks pages it does not want its users to see.
The announcement had some impact on Google's stock. Shares were down 4% Tuesday morning in early trading.
-CNN Wires and CNNMoney.com staff writer David Goldman contributed to this report.