Hulu Plus launches with $10 monthly fee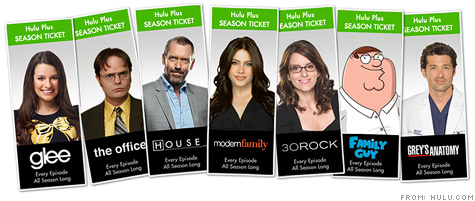 NEW YORK (CNNMoney.com) -- Internet TV website Hulu on Tuesday unveiled a premium, subscription-based service that will be available on the iPhone, iPad, and some other devices in addition to the Web.
The new service, called Hulu Plus, will cost $10 per month. It is in limited release now, but users can go to Hulu's website to request an invitation to subscribe. The company said Hulu Plus would be opened to the general public in the coming months.
A subscription service for the popular site has long been the subject of rumors. The standard Hulu service is free, but it is not supported on mobile phones or Internet-connected devices like video game consoles, Blu-ray players or even certain HDTVs.
Hulu Plus is currently compatible with Apple's popular iPhone and iPad as well As Samsung Internet-ready HDTVs and Blu-ray players. It will eventually work with Microsoft's Xbox 360, Sony's PlayStation 3, and Blu-ray players manufactured by Sony and Vizio, the company said on its website. It will also be available online.
Hulu is a service co-owned by Fox parent company News Corp (NWS, Fortune 500)., ABC parent Disney (DIS, Fortune 500) and NBC parent General Electric (GE, Fortune 500). The site shows certain content from those three networks and some movies for free.
The free site generally allows viewers to watch just a handful of episodes from a show before it begins removing them. But Hulu Plus will allow subscribers to view the entire current season's episodes of Fox, ABC and NBC shows. It will also show all of the past seasons of many hit shows like the "X Files," "The Office" and "Grey's Anatomy."
Most of the content on Hulu Plus will be delivered in high definition.
Hulu has more than quadrupled its viewership in the past year. U.S. viewers watched nearly 1.2 billion free TV programs or movies on Hulu in May, up from about 250 million a year earlier, comScore said. That's 27 videos per viewer, up from under 15 videos last year.
What's more telling is how much Hulu people watch. Viewers tuned into Hulu for an average of 2.7 hours in May, up a full hour from a year earlier.
Analysts had long predicted that Hulu's rampant success would lead it to try its hand at a subscription-based service, as subscription services like Netflix (NFLX) enjoy huge gains in both customers and revenue. It appears for now that the company will continue to offer Hulu for free in addition to Hulu Plus.
"Hulu Plus is not a replacement for Hulu -- it's something new," the company said on its website.