Stamps may go to 46 cents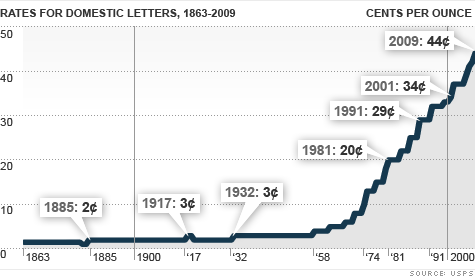 NEW YORK (CNNMoney.com) -- Want to send granny a card? It might cost you a bit more next year.
The U.S. Postal Service on Tuesday proposed a 2-cent increase in the price of a first-class stamp, bringing the cost to 46 cents. The change, if approved, will go into effect on Jan. 2.
The Postal Service is trying to dig itself out of a deep financial hole. It projects a $7 billion deficit next fiscal year.
The agency's revenue has been crushed. Last year, the amount of mail sent declined 12.7%. Businesses hit by the recession have cut back on mailings and more people continue to turn to the web to send their messages.
Earlier this year, the Postal Service announced it would reduce its workforce by the equivalent of 50,000 positions and slash overtime. But the cut in employees and reduction of billions of dollars in expenses have not been enough to close the budget gap.
Rates on packages, periodicals and special services are also set to increase under the proposed plan. The hike would generate about $3 billion in the first fiscal year, according to the Postal Service, not even half of the shortfall.
The Postal Regulatory Commission, which oversees the Postal Service, needs to approve the increase. The commission, whose five members are appointed by the president, has 90 days to rule.
"There is no one single solution to the dire financial situation that the Postal Service faces," Postmaster General John E. Potter said in a statement. "These proposed rate adjustments are moderate and part of a fair and balanced approach to insuring mail service for all Americans well into the future."
The Affordable Mail Alliance, a group of about 100 businesses and nonprofits, called on the commission to reject the rate hike. (CNNMoney parent Time Inc. is a member of the alliance.)
"This proposed rate increase amounts to another tax imposed on Americans at a time when the economy can least afford it," said Tony Conway, a spokesman for the alliance and executive director of the Alliance of Nonprofit Mailers.
In March, the Postal Service proposed other actions to fill its budget gap, including cutting Saturday service and restructuring pre-payments of retiree health benefits. Both measures would require congressional approval.
The Postal Service on Tuesday also unveiled new forever stamps. The evergreen themed stamps will be available for holiday crunch time, starting in October at the current rate of 44 cents. Forever stamps are good -- as the name implies -- forever, regardless of price hikes.
The price of first-class stamps has increased six times since 2001, when they cost 34 cents, twice as many times as it did in the 1990s.