Dollar rebounds on uncertain economic outlook
NEW YORK (CNNMoney.com) -- Investors sought the safety of the dollar Wednesday as worries about European banks and the U.S. economy dragged global markets lower.
What prices are doing: The dollar climbed 0.3% versus the euro to $1.2586 and rose 0.1% against the British pound to $1.5126.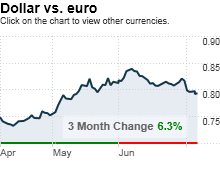 Against the Japanese yen, the greenback was down 0.3% to ¥87.25.
The dollar slumped Tuesday as global markets rallied and U.S. stocks ended the day higher after seesawing throughout the session.
What's moving the market: U.S. stock futures pointed to a shaky start Wednesday as global markets declined, increasing the appeal of the dollar as a safe haven.
"The market continues to wrestle with two main issues, the state of European bank balance sheets and the continued string of economic data warning of a loss of momentum," Brown Brothers Harriman & Co. said in a research note.
The latest economic data showed that activity in the service sector slowed more than expected in June, helping to boost the U.S. currency overnight.
The Institute of Supply Management said its non-manufacturing index dropped to 53.8 last month from 55.4 in May. While any reading above 50 signals expansion in the sector, economists surveyed by Briefing.com had expected the index to edge down to 55.
Investors were also awaiting a report from the Committee of European Bank Supervisors expected to provide details about the methodology it will use in stress tests of the nation's banking system.
"There have been numerous press reports warning that the stress test may reveal serious capital requirements," said Brown Brothers Harriman.
"The market is keen to know if the banks are strong enough not only to withstand weaker growth and higher unemployment, as was the case of the stress tests on U.S. banks a year ago, but also if they can cope with problems rolling over current funding and a potential sovereign default," Brown Brothers Harriman added.