Oil rebounds 3%
NEW YORK (CNNMoney.com) -- Oil rebounded Wednesday from the one-month low hit during the previous session, soaring nearly 3% and breaking a six-session losing streak, as the dollar turned weaker and stocks gained.
What prices are doing: Crude oil futures for August delivery rose $2.09, or 2.9%, to settle at $74.07 a barrel.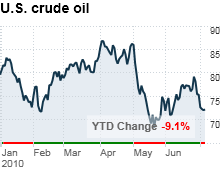 The national average price for a gallon of regular unleaded gas decreased to $2.721, down 0.3 cent from the previous day's price, according to motorist group AAA.
What's moving the market: Crude oil recovered from its lowest level since early June and ended higher for the first time in seven sessions.
The advance was supported by a weaker dollar, which fell against the euro and the pound. Crude oil, like other commodities, is priced in dollars, and a weaker greenback boosts prices.
Oil prices were also tracking a surge in stocks, as the Dow logged triple-digit gains.
What analysts are saying: "Due to a lack of the economic indicators, investors will be keeping an eye on the U.S. dollar movements and the direction of the global equity markets for further signs of the economic conditions," said Myrto Sokou, analyst at Sucden Financial.
As economic uncertainty persists, oil is likely to trade between $70 and $75 a barrel, she added.