State Street stock surges 10%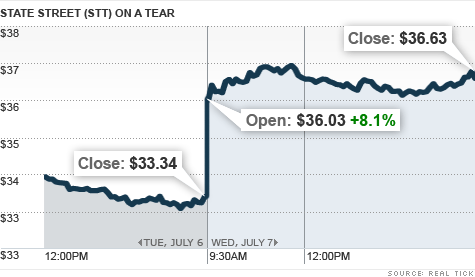 NEW YORK (CNNMoney.com) -- Shares of State Street soared to end almost 10% higher Wednesday after the custody bank said its quarterly earnings would easily beat forecasts.
Before the market opened Wednesday, State Street (STT, Fortune 500) said it expected second-quarter earnings to be 93 cents a share on $2.2 billion in revenue.
That estimate easily topped analysts' average forecasts of 72 cents per share on $2.16 billion in revenue, according to Thomson Reuters.
Chief executive Joseph Hooley said State Street had "momentum" in service fee revenue and trading-services revenue. The bank's full report of its second-quarter earnings is due July 20.
After the announcement, Janney Capital Markets upgraded State Street stock to "buy" from "neutral." In a note to investors, Janney analysts said State Street should now be on track to hit its profit guidance for the full year. The analysts said that concerns that it wouldn't had been a "significant overhang" on the stock.
State Street was one of the first financial firms to receive bailout money from the Troubled Asset Relief Program, or TARP, in 2008.
Other banks get a boost: Competitors Northern Trust (NTRS, Fortune 500) and Bank of New York Mellon (BK, Fortune 500) rose to end more than 6% higher on State Street's announcement. Those companies are specialized banks that get the majority of their business from managing wealthy customers' trust funds and custody accounts.
But State Street's forecasts aren't necessarily an indication that all banks will do well in the second quarter.
While other large banks such as Citigroup (C, Fortune 500) and JPMorgan Chase (JPM, Fortune 500) have performed modestly well in recent weeks, their shares aren't up as much as banks like State Street -- which don't have as much exposure to trading. Still, the KBW Bank index ended 3.9% higher Wednesday.
And despite Wednesday's jump, State Street shares are still down almost 16% year-to-date as investors remain concerned about the health of the U.S. economy and debt problems in Europe.