Tesla interest wanes, stock below IPO price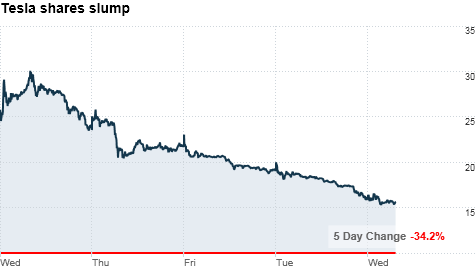 NEW YORK (CNNMoney.com) -- Shares of Tesla Motors sank below their initial public offering price Tuesday and continued to remain depressed Wednesday.
The electric car maker raised $266 million through its June 29, IPO, which put a $17 price tag on shares. And investors snapped up the stock, sending shares up as high as $30.42, or up 79% over the IPO price.
But since that opening run, the Palo Alto, Calif.-based automaker's shares have waned. Tesla's (TSLA) stock fell 19% Tuesday to $16.11, down more than 5% from its IPO price.
Shares fluctuated Wednesday, falling as low as 3.4% to $15.56 and edging up a mere 2.1% to $16.45 in early trading.
The sell off could be linked to Tesla's lack of financial strength. Owned by PayPal founder Elon Musk, the seven-year old auto company lost $55.7 million last year and $260.7 million since its inception.
"Tesla is a company that has tremendous promise, but has been unable to turn the perception of what it can do into a financially profitable model," said David Menlow, president of IPOfiancial.com, an IPO research site. "It's going to take years to accomplish that."
The early enthusiasm was likely thanks to Tesla's launch of the Model S, an electric sedan that the company says will sell for a minimum of $50,000 in 2013, more affordable than the $100,000 Roadster sports car Tesla currently sells.
But the Model S so far just has just one operable prototype, and no final design or manufacturing process.