Stocks: Best week in a year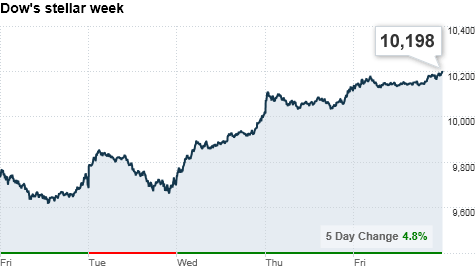 NEW YORK (CNNMoney.com) -- Stocks rallied Friday, finding momentum at the end of a choppy session ahead of the first wave of quarterly corporate results due out next week.
The Dow Jones industrial average (INDU) added 59 points, or 0.6%. The S&P 500 (SPX) gained 8 points, or 0.7%, and the Nasdaq (COMP) composite rose 21 points, or 1%.
All three major indexes drifted on both sides of unchanged during the session before finally turning higher in the last hour.
Investors returned from the Independence Day holiday this week in the mood to buy shares that had been battered in a two-month selloff. In the four sessions this week, the Dow gained 512 points, or 5.3%. The S&P 500 rose 5.4% and the Nasdaq was up 5%.
It was the best week in nearly a year for the market, with all three major gauges seeing their biggest results since the week ended July 17, 2009. in that week, the three majors all gained between 7% and 7.4%.
"The market has rebounded this week in anticipation of a fairly decent period of corporate earnings," said Tyler Vernon, chief investment officer at Biltmore Capital. "This will be a nice bounce, but long term, I think a lot of the concerns about the global economy are still there."
While there haven't been many positives on the economic front, there's been some optimism that companies will still be able to continue to make profits, even with the economic strain.
Analysts currently expect year-over-year growth of 27%, according to the latest figures from Thomson Reuters. Dow components Alcoa (AA, Fortune 500), JPMorgan Chase (JPM, Fortune 500), Bank of America (BAC, Fortune 500), Intel (INTC, Fortune 500) and GE (GE, Fortune 500) are all due next week.
Google: The Internet behemoth renewed its license with the Chinese government to operate its site in that country, following a four-month battle over censorship.
A renewal had been in question due to tension between the company and China over the censorship of search results. But Google's decision last week to no longer automatically redirect users of Google's China site to its uncensored Hong Kong site seemed to pave the way for the renewal.
Google (GOOG, Fortune 500) shares gained 2.4%.
On the move: Financials were among the big gainers Friday, with JPMorgan Chase (JPM, Fortune 500), Citigroup (C, Fortune 500), US Bancorp (USB, Fortune 500) and Regions Financial (RF, Fortune 500) among the stocks lifting the KBW Bank (BKX) index by 2.4%.
Caterpillar (CAT, Fortune 500), Chevron (CVX, Fortune 500), DuPont (DD, Fortune 500), Merck (MRK, Fortune 500) and Intel (INTC, Fortune 500) were among the Dow's biggest gainers.
Market breadth was positive and volume was very light. On the New York Stock Exchange, winners beat losers by almost four to one on volume of 880 million shares. On the Nasdaq, advancers beat decliners by three to one on volume of 1.61 billion shares.
Economy: Wholesale Inventories rose 0.5% in May after climbing 0.2% in April. Economists surveyed by Briefing.com expected inventories to rise 0.4%.
World markets: European markets gained, with Britain's FTSE 100 rising 0.5%, Germany's DAX advancing 0.5% and France's CAC 40 climbing 0.5%.
Asian markets rallied after South Korea raised its benchmark interest rate, seen as an optimistic sign for the economy. Japan's Nikkei rose 0.5%, Hong Kong's Hang Seng gained 1.6% and the Shanghai Composite rose 2.5%.
Commodities: U.S. light crude oil for August delivery rose $1.01 to $76.09 a barrel on the New York Mercantile Exchange.
COMEX gold for August delivery gained $16.30 to $1,209.80 an ounce.
Bonds: Treasury prices fell, raising the yield on the 10-year note to 3.06% from 3.02% late Thursday. Debt prices and yields move in opposite directions.