Where soccer beats baseball: Portland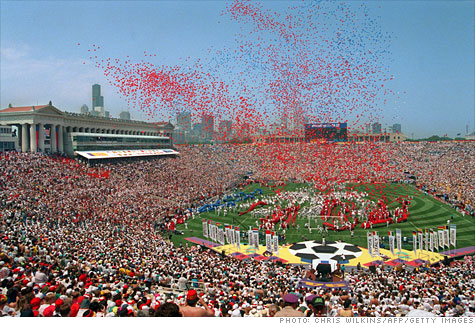 FORTUNE -- Portland, Ore. is the city of a thousand nicknames. "Stumptown," perhaps its oldest, harkens back to the region's logging roots. "Beervana," a nod to the city's renowned craft brew scene, is another favorite. Rumor has it, violent protests prompted George H. W. Bush's staff to christen the city "Little Beirut." But if Henry Merritt Paulson III has his way, "Soccer City USA," may become Portland's next big moniker.
The son of former Treasury secretary Henry Paulson, Merritt, who goes by his middle name, bet big on Portland's underserved sports market in 2007, when he convinced his family to buy the AAA baseball Portland Beavers and minor league soccer Portland Timbers for an estimated $16 million. Four years later, the investment may begin paying off when, riding the wave of post-World Cup popularity, the Timbers become Major League Soccer's 18th franchise in 2011, and Paulson, a 37-year-old former NBA and HBO executive, becomes the league's youngest owner.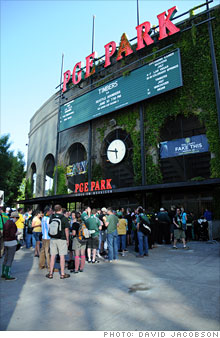 "The timing is terrific," says Paulson, overlooking the field from his PGE Park office. Tall, thin, and with a collection of baseball and soccer gear strewn about his office, he looks like he could rip off a batting practice session at any moment -- but the constant ding of emails hitting his inbox shows how unlikely that is.
"Anybody who's doubts soccer's relevance need only look at the ratings and the attention that the World Cup has received here in the states," he says. "The awareness and the interest is at a high point."
On the other hand, interest in Portland Beavers baseball couldn't be any lower. Since being named a charter member of the Pacific Coast League in 1903, the team has existed as various franchises under a slew of different owners, and it has been affiliated with an array of major league teams.
Currently, the Beavers are the top farm team for the first place San Diego Padres. But on this day, most of the Beavers' 19,566 seats will sit empty as fewer than 2,500 fans tip the turnstiles to watch the team's ninth inning rally fall short. The Beavers have played in multi-use PGE Park since 1956, and currently share the stadium with the Timbers. But next year, under the MLS's $35 million expansion agreement, they will be evicted. The MLS mandates that their teams play in soccer-specific stadiums. So after $31 million of public and private-funded renovations, there will be a new pitch in Portland, but it won't be for baseball.
MLS's Game Plan
The MLS's edict is grounded in savvy business planning, as the league hopes to dodge financial troubles that have plagued past, now-defunct American soccer leagues. "The MLS has built itself for the long haul," says Paulson. "It's been fiscally conservative and prudent, as well as successful in developing soccer specific venues, which is crucial." According to MLS Commissioner Don Garber, soccer-specific stadiums are necessary to maximize revenue through premium seating, television-optimized sight lines, scheduling priority, and increased advertising opportunities, including naming rights.
Considering the league's track record, it's hard to argue with Garber's recommendations. Founded with the proceeds of the U.S.-hosted 1994 World Cup, the league began with ten teams in 1996 and will number 20 teams by 2012. In 2007, MLS also saw considerable growth after the 2006 World Cup, with David Beckham signing with the Los Angeles Galaxy, the signing of a 10 year $100 million clothing and equipment deal with Adidas, and with Toronto -- one of its most profitable teams -- joining the league.
Expansion fees, which are somewhat commensurate with team values, have also climbed in recent years. For example, Toronto payed $10 million to join MLS in 2007, while the Seattle Sounders paid $30 million to join in 2010. Montreal, the next team to join after Portland and Vancouver, B.C. launch in 2011, will pay $40 million to become a member in 2012. The fees give teams rights to operate a club in their market, the opportunity to join the board of governors, and an ownership share in MLS's marketing arm.
If Seattle's success is any indication, the potential for Portland and Vancouver is promising. The Sounders were just named Professional Sports Team of the Year by Sports Business Journal, beating competition from the NBA, NFL, NHL and MLB. Partially owned by Paul Allen, the team plays at the Microsoft (MSFT, Fortune 500) co-founder's Qwest Field, and averaged 30,000 fans per home game in their 2009 debut season. In 2010, the stadium expanded its soccer capacity to nearly 36,000 seats, and has continued to sell out every match along the way. "In my view, this is one of the most successful launches of a pro sports franchise ever," says Garber.
With about 20,000 seats, Portland can't match Seattle's attendance, but the league still expects it to perform well and hopes some Pacific Northwest rubs off on the team. As a minor league soccer squad, they already pack the stadium and recently sold out a "friendly" exhibition match against Seattle in just six days.
A loud, raucous group calling themselves "the Timbers Army" occupies an entire section of PGE Park and stays on its feet the entire game. Away from the pitch, Adidas makes its North America headquarters in North Portland while Nike's (NKE, Fortune 500) worldwide nerve center is in nearby Beaverton. Local youth soccer participation levels are through the roof, and the area's televised soccer viewing is among the highest in the nation, says Garber. "There's clearly something very special taking place in the Pacific Northwest as it relates to soccer," he adds.
Footing the Bill
For soccer to succeed in Portland, PGE Park seems to be the only thing holding Paulson back. Before MLS would agree to the Timber's admission to the league, they had to be assured that changes could be made to their stadium to make it soccer-centric, and for that, Paulson needed the city's support. Before next year, PGE Park will see a $31 million renovation, paid for with an $8 million investment from Paulson, another $11.1 million from Paulson in the form of pre-paid rent for years 8 through 25, and $11.9 million in cash and bonds from a special city spectator fund that can only be used for projects like this. The city will officially own the stadium and the Timbers will be its operator, controlling all revenue streams from naming rights to concessions and merchandise. "There's going to be no impact from a taxpayer standpoint," says Paulson.
The PGE Park deal was only half the journey -- Paulson also had to find a new local home for the Portland Beavers. Keeping the Timbers at PGE saved about $70 million, as the average cost to build a new MLS stadium is around $100 million. Modern minor league baseball stadiums only cost about $40 million to build and seat only around 8,000 fans.
Paulson first wanted to raze Portland's Memorial Coliseum and build a baseball stadium adjacent to the Rose Garden Arena, which is home to the city's NBA franchise, but that was offside. He withdrew his second proposal to build a stadium in the Lents area of Portland after the neighborhood presented fierce, vocal opposition reminiscent of the Little Beirut protests. A third plan to build a new stadium in Nike's suburban hometown of Beaverton proved an ill fit and was short on funds. As it stands now, the Beavers look to be homeless in 2011, and will likely be leaving the city, at least temporarily.
How to keep the Beavers around
For baseball to succeed long-term in Oregon, Paulson believes a smaller, baseball-specific stadium is a necessity. "We're currently in a suboptimal facility that's three times too big for baseball, and you don't have an intimate fan experience," he says. "On a typical game in a 72-game season, it can feel like a wind tunnel. You get a crowd of 4,000 people and it can feel like 400 people."
"I know that Merritt has done everything he could to keep the Beavers in town, because I sat side-by-side with him at those meetings lobbying not just on behalf of soccer but also baseball," says Garber. "I just think the local community made the decision that Major League Soccer is a better play for them and a better return on investment."
The numbers don't lie, but then again they don't tell the whole story either. Garber credits Portland's "counter-culture" nature with carrying the flame for soccer all these years. Since the '70s, Little Beirut's revolutionaries have also helped propel the nationwide popularity of recycling, bike transit, car sharing, and craft beers, which raises the question of who's getting the bigger bounce: Portland for fielding an MLS team, or MLS from finally being in Portland.
Meanwhile, outside Paulson's window, a visiting minor leaguer digs in for some batting practice. He turns on one fastball after another, and his teammates whoop and holler with every smash. Loud and crisp, the sounds of baseball echo through the old stadium and mix with over a hundred years of history before evaporating into the evening air. A glance around the ballpark reveals there's not yet a soul in the stands, but Beervana's brewpubs are undoubtedly packed. For a city with more microbreweries than any other in the world, locals, ironically, drink a lot of PBR too.
"The team leaving is certainly not the death knell for baseball in Portland," says Paulson. "Triple-A baseball will try to come back, and hopefully Portland will realize what it's lost."