Defense spending: Slaying the sacred cow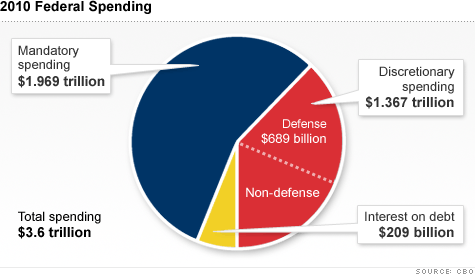 NEW YORK (CNNMoney.com) -- It was once sacrosanct. But no more.
A growing chorus of politicians and citizens is calling for defense spending to be scrutinized as much as any other federal program when it comes time to tighten the nation's fiscal belt.
The United States spends more on defense than any other country, and about five times more than China, which ranks second on the list.
Defense spending is a big ticket in Washington. At $689 billion this year, it accounts for about 20% of the entire federal budget. And it makes up 50% of the so-called discretionary budget, which pays for everything but entitlement programs and interest on the debt. In other words, all federal funding for education, infrastructure, transportation, the arts, and scientific research, to name a few.
"Any conversation about the deficit that leaves out defense spending is seriously flawed before it begins," House Majority Leader Steny Hoyer, D-Md., said in a speech last month.
Many Americans may agree with that point, judging from a conference of 3,500 politically and demographically diverse participants who gathered to discuss budget issues last month. A majority of attendees said they could support up to a 15% reduction in defense spending.
Garnering support in Congress for any decrease in defense spending could be tough. But even on Capitol Hill there's increased support for pulling in the fiscal reins on the Defense Department.
A small, bipartisan group of legislators commissioned a report that suggests potential cuts that total close to $1 trillion over 10 years. The report, released last month, was written by national security analysts who represent a wide range of political and strategic policy views.
"Not all the contributors endorse all the options, but all agree they offer genuine possibilities for resource savings," the analysts said in the report.
Many of the suggested cuts are targeted at spending that the analysts deemed wasteful, ineffective or outdated. The cuts, they said, would not compromise national security. "If the United States were to cut its spending in half today, it would still be spending more than its current and potential adversaries," the group wrote.
'A perverse daisy chain'
The legislators who arranged for the report -- Sen. Ron Wyden, D-Ore. and Reps. Barney Frank, D-Mass., Ron Paul, R-Texas, and Walter Jones, R- N.C. -- urged President Obama's deficit reduction commission to seriously consider defense spending cuts as part of its recommendations to Congress.
Specifically, the lawmakers want the commission to review the country's global military commitments, such as its 460 installations in 38 countries not including temporary ones in Iraq and Afghanistan. They used the phrase "perverse daisy chain" to describe the current way overseas commitments are financed: Borrow in large part from foreigners to fund overseas efforts, and then pay interest on the borrowed money to foreign debt holders.
The lawmakers, in a letter to the commission, said the government should fully fund efforts to combat terrorism, protect Americans and give troops what they need. But, they added, "it is not realistic for a nation with limited resources to be expected to shoulder the defense burden of the entire planet."
Of course, even when U.S. military efforts are considered necessary, a precedent has now been set to pay for them with borrowed funds.
For the first time in U.S. history, the entire cost of the wars in Iraq and Afghanistan -- on which the country has spent more than $1 trillion to date -- are being charged to the national credit card.
A proposal earlier this year to impose a surtax to pay for future spending on the wars went nowhere. And to date no serious alternative has taken its place.