Should you buy energy stocks?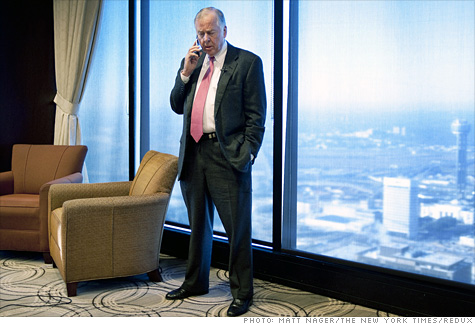 FORTUNE -- At 82, T. Boone Pickens has worn multiple (10-gallon) hats: billionaire investor, corporate raider, hedge fund manager, and proselytizer for natural gas and wind -- not to mention fervent Oklahoma State football fan. Through it all, though, he's been an oil and gas man. He spoke with Fortune's Katie Benner about the perils and possibilities of investing in energy during a time of tumult for the industry. Edited excerpts:
Why hasn't the BP spill pushed oil prices higher?
A lot of oil is gushing from the blowout, but it wasn't in the system to begin with, so it's not like we're losing supply. But prices could go higher. Goldman Sachs (GS, Fortune 500) and Morgan Stanley (MS, Fortune 500) are both predicting that oil [about $77 a barrel as of late June] will hit $100 next year, and you know that will force equities to move higher too. I think that's a realistic projection because supply is capped at about 85 million barrels a day, and if we have any sort of global recovery, the only way to control the demand will be through price.
I would also mention the moratorium on drilling -- whether or not it holds. Gulf of Mexico production isn't that significant in the overall picture, but it matters at the margins, and every 100,000 barrels of oil or so affects the market. We had 34 rigs operating in the deep water, producing about 1.4 million out of the Gulf of Mexico's daily 1.7 million barrels of oil.
Because it's so complicated to stop and start production, a six-month ban will probably be more like 12 to 18 months. Even after we restart the wells, their capacity to produce will have declined by 25% to 35% over that time. This will also eventually move prices.
Are you worried about the political uncertainty that the Deepwater Horizon disaster has generated?
As far as stocks are concerned, this could mean a buying opportunity. As long as there's political uncertainty around the energy space, stock prices will come down. But keep in mind that the midterm elections in November could erase that discount over time as political uncertainty resolves.
Would you buy BP stock, given that the price has fallen over 50% since the accident?
We don't own the stock now, and I'm not sure if I'd be a buyer or a seller. There's too much uncertainty about what will happen to the company. But it wouldn't bother me to own the bonds. There's a lot of value in the debt structure, and it would take a very large loss for bondholders to see their value eroded.
What about other energy stocks?
What you see is a wildcat well that is BP's problem. So we're long-term buyers of exploration and production stocks. We own shares of Anadarko Petroleum (APC, Fortune 500), which is struggling because it has a 25% interest in the [Deepwater Horizon] rig. But it also has a lot of natural-gas projects in the U.S. and globally. It's a large, diversified oil and gas company, so it should weather the current problems just fine. We also own Devon Energy (DVN, Fortune 500) shares. Devon had the recent good fortune of selling its offshore assets to BP (BP), and now it's focusing on the U.S. onshore market.
Will the spill renew excitement about alternative energy?
It's important to understand that oil and renewables do different things. Wind and solar are for power generation, so they don't replace oil. About 70% of all oil produced is used for transportation fuel. Renewables are good projects, but they don't get us off of foreign oil. That's why I think natural gas will replace oil. It's cleaner, it's cheaper, it's abundant, and it's ours. We believe natural gas will become part of the transportation fuel mix and be used for power generation. It won't happen overnight, but it will happen over time.
Many think natural-gas use will rise, but investors often get creamed because pricing is so volatile. What should potential investors think about before jumping in?
If you ask me where I think prices will be [in the short term], I'll say, "Check the weather." It has a huge effect on natural gas. For example, a hurricane off the coast of Africa will shut down production and drive prices up. Very hot or cold weather also increases demand.
Natural-gas prices also affect the viability of alternative-power projects. For example, extremely low prices make it hard to do wind projects because wind power is priced at the margin, and the margin is the price of natural-gas power. If natural gas is at $5 [per 1,000 cubic feet], it's too cheap. There's no economic reason to build wind power. You would need gas prices at $6 or above to make wind-power pricing high enough to cover the expense of the project. So natural-gas prices tell us how viable something like a wind project will be.
How high will natural-gas prices go in the next few years?
I think they'll hit $6 in two years. In five years they'll be selling around $8.
It sounds as if natural gas is one of the riskiest investments around.
You can't invest in natural gas on a daily basis. It's too volatile. But if you think of natural gas as a long-term holding, then you push your profit horizon out. A long-term time horizon would be at least two years.
Two years doesn't seem like an unreasonably long period.
Well, my horizon used to be five years. But when you get to be as old as I am, you shorten it to two.