China: The new fast food nation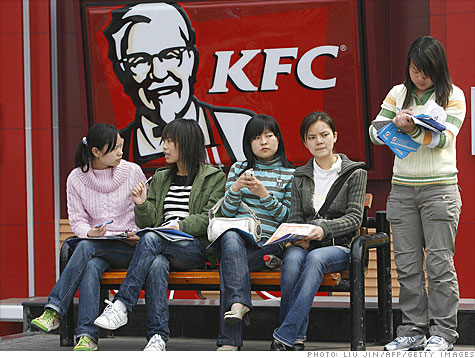 NEW YORK (CNNMoney.com) -- Consumers around the world have developed a taste for American fast food, but demand for fried chicken sandwiches and pepperoni pizza appears to be particularly strong in China.
Yum Brands, the parent company of KFC, Pizza Hut and Taco Bell, said Tuesday that profits from its operations in China surged 33% in the second quarter.
The company, which has over 36,000 fast food restaurants in more than 100 countries, generates about 60% of its profits in overseas markets, the largest of which is China.
Yum opens one new KFC in mainland China almost every day. It already has nearly 3,000 of the fried chicken restaurants operating in 650 Chinese cities. That's in addition to 560 Pizza Hut locations.
The company aims to eventually open at least 20,000 fast food outlets in mainland China. In the second quarter alone, Yum opened 59 restaurants in China, bringing the total for this year to 155 restaurants.
"A key driver of our overall growth continues to be new unit development in China and Yum Restaurants International," David Novak, the company's chief executive, said in a statement.
In its second-quarter financial report, Yum said profits from its China division were $139 million in the three months ended June 12, up 33% from $105 million a year ago.
Same-store sales growth, a key measure of activity at stores open more than one year, rose 4% in China during the quarter.
By comparison, Yum said profits from U.S. operations rose 10% to $184 million in the second quarter of 2009. Same-store sales in the United States were flat in the quarter.
Profits from other international markets rose 7% to $122 million.
Yum also stands to benefit from recent moves by Chinese policy makers to allow the yuan to appreciate against the U.S. dollar.
Analysts at UBS estimate that a more flexible exchange rate could boost earnings for Yum by one percentage point this year and up to three percentage points in 2011.
Meanwhile, net income in the quarter was $286 million, or 58 cents per share, the company said. That's down from $303 million, or 63 cents per share, in the second quarter of 2009, when the company booked a one-time gain of $68 million.
Analysts surveyed by Thomson Financial had expected 55 cents per share.
Revenue rose 4% worldwide to $2.57 billion in the quarter. Analysts were looking for sales of $2.54 billion.
The Louisville, Ky.-based company raised its full-year earnings forecast to $2.43 per share from $2.39, excluding special items. However, the outlook was slightly below the $2.48 per share forecast that analysts had expected.
Shares of Yum (YUM, Fortune 500) fell 3% in after hours trading.