Illinois: Our very own Greece?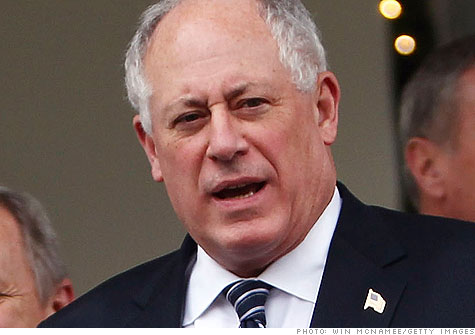 NEW YORK (CNNMoney.com) -- Just two weeks after Illinois Gov. Pat Quinn chopped $1.4 billion from the budget, the cash-strapped state is turning to the debt markets to get it through the fiscal year.
On Wednesday, it plans to raise $900 million through Build America Bonds to fund its first capital program in more than a decade. The money will be used to improve roads, bridges and schools.
And this debt issuance is only the beginning. The state plans to raise $1.3 billion in short-term notes next week and $1.4 billion in debt related to tobacco settlement funds in November.
And, the state plans to turn to the debt markets to fund $3.7 billion in pension obligations in December, if the state legislature approves. The state already sold $2.4 billion in pension notes in January.
States don't traditionally fund their pensions with debt, but the practice frees up other money that can be used for operations, said John Sinsheimer, Illinois' director of capital markets.
The Prairie State is in the midst of correcting years of overspending that has left the state in deep financial trouble. It could have as much as $6 billion in unpaid bills that have left schools, social service agencies and vendors waiting months to be paid, according to state comptroller Daniel Hynes.
"We're leveraging our future and that's not the correct approach, but it was what was chosen out of a lot of bad options," Hynes told CNNMoney.com.
On Wednesday, the state intends to issue Build America Bonds, a Recovery Act program that has proven very popular among states and municipalities. The bonds are taxable, but the federal government subsidizes 35% of the interest payments.
The state has issued $2.3 billion in Build America Bonds so far this year, attracting many new investors, including those from overseas, said Sinsheimer.
Illinois is not alone in turning to the debt markets to get out of a fiscal hole. Many states and municipalities have ramped up their borrowing as tax revenues plummet amid the economic downturn.
But Illinois' actions have not sat well with rating agencies. Both Moody's and Fitch downgraded the state in June, before the $24.9 billion budget was passed. That makes it more expensive and more difficult for the state to raise money in the debt markets.
"The state has not demonstrated the political willingness to take action during the fiscal crisis to restructure its budget to achieve balance," according to Fitch. It "has relied almost exclusively on borrowing to close its sizeable budget gaps."