When the benefits run out - and still no job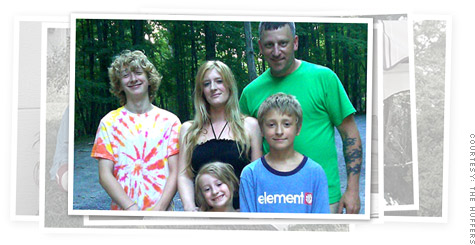 NEW YORK (CNNMoney.com) -- Two years on the unemployment line is devastating. You deplete your savings. You borrow from your family. You feel that your life is slipping out of your control.
And then you spend your last unemployment check.
As the ranks of the long-term unemployed grow, the politicians in Washington are fighting over whether to extend deadlines so more people can get the maximum of 99 weeks of benefits.
But 99 weeks is the cap. For Americans surviving on jobless benefits, that's the end of the road. And there's no movement in Washington to come to their aid.
In fact, by the end of the year, more than 1 million people will have exhausted their 99 weeks and still be without work, according to Andrew Stettner, deputy director at the National Employment Law Project. (Share your unemployment story on iReport.)
Many have already started falling through the safety net. These people are coping any way they can, often reaching out for other aid from agencies and charities.
People like 36-year-old Kevin Huffer. The former car salesmen collected his last $430 weekly unemployment check in March.
"I've applied for every job under the sun for the past two years -- ones that I know I can't get and ones I know I should have gotten," Huffer said. The resident of Chatham, N.Y., has yet to receive even a phone call in response to a job application. He has taken his job search 30 miles north to Albany, where he recently applied to be a Ford car salesman. His wife Heather, 32, is also looking for a job.
To put meals on the table, the father of three has been fishing and going to a local food pantry. He's also been doing handyman jobs for his landlord in exchange for his $1,300 rent.
But now Huffer says his landlord has given him until next week to find a new place for his family. Huffer has been meeting with a case worker at the nonprofit Columbia Opportunities, a member of the Community Action Partnership, which fights poverty through 1,100 agencies across the country.
The local agency is helping Huffer secure affordable housing through a Department of Housing and Urban Development program that targets individuals at imminent risk of losing their shelter and helps pay up to 70% of rent for up to 18 months thanks to stimulus funds.
Meanwhile, Huffer is on a waitlist for a Section 8 housing voucher, but it could take two years to get to the front of the line.
Others who have maxed out their benefits have managed to keep their housing situation stable but need other kinds of government assistance to survive.
Rebecca Miranda, 33, of Beaumont, Calif., moved in with her boyfriend after losing her unemployment benefits at the start of April, and applied for food stamps through the government's Supplemental Nutrition Assistance Program.
Between April and June, she received $367 a month on a pre-loaded debit card to feed herself and her 2-year-old daughter.
But this month, the former headhunter decided to forgo food stamps as her recently launched candy-making business began to attract more attention. One client recommended that her company, Sherry's Jubilee Desserts, be featured on the Food Network's newest series, Kid in a Candy Store.
"It's a long shot that I'll make it on the Food Network, but I've made $400 since I started the business in May and the word's getting out there," Miranda said.
SNAP is the government's most universal program for low-income households since singles, couples and families can qualify as long as they meet the income limits. And there are also a handful of other government initiatives that the long-term unemployed can turn to for extra cash.
Some of those who do not qualify for the government's help are relying on nonprofits, including local food pantries.
Angel Food Ministries distributes food items across 44 states to over 6,000 host sites, mostly churches and faith-based organizations. For $30, the organization provides about $60 worth of food that generally lasts a week for a family of four.
Last week, the Modest Needs Foundation, a New York-based grass-roots charity, launched a grant program to help the unemployed pay a household expense or invest in courses or other opportunities that will increase their chances of finding a job.
"It's not always a lot of money," said Keith Taylor, founder and chief executive of Modest Needs. "But the most important thing we can do is help save someone's house or give them the chance to take a computer course to secure a job."