Intel has best-ever quarter as PC sales pick up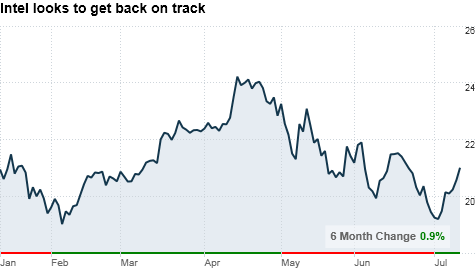 NEW YORK (CNNMoney.com) -- Intel on Tuesday posted a record quarter that gave worried investors reason to believe again.
The world's largest chipmaker said PC and server sales continued to gain steam in the second quarter, helping the company post its best-ever quarterly sales and profit. That growth flies in the face of investors' concerns that the European debt crisis would weigh on sales for Intel -- and the entire tech sector -- in the coming months.
Since mid-April, Intel's stock slipped more than 13%, and many tech stocks have fallen along with it. But Tuesday's strong earnings report gave Intel's stock an immediate jolt: Shares of Intel (INTC, Fortune 500) rose 6% in after-hours trading.
"Strong demand from corporate customers for our most advanced microprocessors helped Intel achieve the best quarter in the company's 42-year history," Paul Otellini, Intel CEO, said in a prepared statement. "The PC and server segments are healthy and the demand for leading-edge technology will continue to increase for the foreseeable future."
Intel said its net income rose to $2.9 billion, up from a loss of $400 million a year earlier. Sales for the Santa Clara, Calif., company rose 34% to $10.8 billion.
Intel's PC processor sales increased 2% from the first quarter, while server chips soared 13%. Revenue from Intel's Atom chips, which are mostly found in mini-laptops and netbooks, rose 16% over the previous quarter. That growth comes on top of first-quarter results that Intel in April said were its best ever for that period.
The company's outlook was also upbeat. Intel forecast it would bring in between $11.2 billion and $12 billion in sales next quarter, topping analysts' forecasts.
Intel is a closely watched bellwether by analysts. A strong showing by Intel tends to indicate increased demand for tech spending by consumers and businesses -- a sign that the economy is improving.
The company's results boosted other tech stocks as well in after-hours trading, including Microsoft (MSFT, Fortune 500), Apple (AAPL, Fortune 500), Dell (DELL, Fortune 500), and Hewlett-Packard (HPQ, Fortune 500), which all rely heavily on computer sales.
Still, analysts' concerns about Intel's longer-term growth prospects remain in play.
Though Intel reported record mobile microprocessor sales in its latest quarter, that isn't saying much, given the company's lack of traction in the high-growth smart phone market. Tablet devices like the iPad are also expected to outpace PC sales soon, but Intel hardly has any presence in that space.
Chipmaking rival AMD (AMD, Fortune 500) is set to report earnings later this week.