Treasurys gain on weak retail sales
NEW YORK (CNNMoney.com) -- Treasury prices rose Wednesday after a disappointing U.S. retail sales report, and a moderately strong auction of $13 billion in long bonds.
What prices are doing: The benchmark 10-year note was up 22/32 to 103-17/32 and its yield fell to 3.05%. Bond prices and yields move in opposite directions.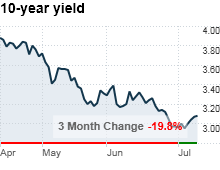 The 2-year note edged up 4/32 to 100-1/32 with a yield of 0.61%, while the 30-year bond added 1-13/32 to 106 and yielded 4.01%.
What's moving the market: The Commerce department released a report earlier Wednesday that said retail sales fell for the second straight month in June.
Total retail sales fell 0.5% to $360.2 billion last month. Economists surveyed by Briefing.com expected that sales would slip by only 0.2%. The downbeat data pushed investors toward the safe haven of bonds, pulling prices higher -- even though bond prices often fall ahead of auctions.
The Treasury Department auctioned $13 billion in 30-year notes Wednesday, as part of its sale of $69 billion worth of notes and bonds this week in quarterly refunding. The sale's bid-to-cover ratio -- an indicator of investor demand for the bonds -- was 2.89, slightly higher than that of the last long bond sale.