Jeffrey Immelt to Obama: Focus on jobs, economy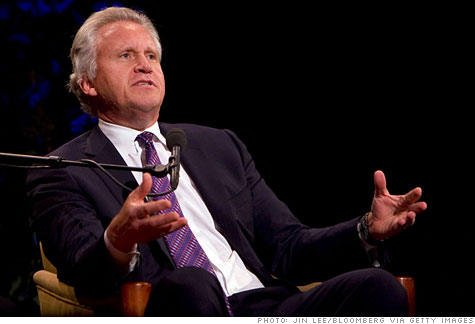 FORTUNE -- On July 13 General Electric CEO Jeffrey Immelt announced a $200-million 'challenge,' whereby GE, together with four venture-capital firms, committed to invest in ideas that will advance alternative-energy and efficiency programs, specifically the so-called smart grid that helps electricity networks operate more efficiently. Following the San Francisco event to unveil the program, Immelt sat down with Fortune's Adam Lashinsky to talk about GE's efforts under a campaign called Ecomagination. Immelt spoke candidly and expansively about how he'd change his 'eco' language if he were to start over, why nuclear energy's revival is a ways off, and why President Obama needs to change his tone. An edited and condensed transcript of their conversation follows.
GE's Ecomagination has been around for five years now. Talk a little bit about what the successes have been and what you'd do differently if you had to start over.
When we first researched this in 2003-2004, we looked at Ford (F, Fortune 500) and BP (BP), and other people at the time who had done environmental initiatives, and what we said is, ours had to be edgy and had to have clear metrics. So that's why we had these four pillars: We doubled the R&D, really went for big gains in revenue, lowered our own carbon footprint, and committed to be transparent. I think that's worked. What I wish I had done differently was that it became too much of an environmental initiative and not enough of a business-driven kind of a competitiveness story. Even though that's what we did inside GE (GE, Fortune 500). We coined the phrase in 2005, "Green is green," which I thought was novel and smart at the time. But I think the way the whole debate has turned is that it still has this view that it's too fancy for common business to use, and nothing could be further from the truth. So that's what I'd change: I'd use different words.
In other words, just saying green is good doesn't make it good, right?
Totally. I think, not just that, but it takes the rest of the economy, who benefits from this -- working people, industries driving for productivity -- who can benefit from efficiency or clean technology, and it looks like it's just for dilettantes, and fancy people. We made a lot of money on it, so I'm going to go forward because I view it as a competitive advantage. But I think in the next five years, we've got to rough it up, make it more common, change the words a little bit, drive the technology on easier things like energy efficiency and conservation, and I'm quite excited about all of that.
What's an Ecomagination business, and what isn't?
When we started this, we hired a group called GreenOrder. And we said, OK, here are the specifications: It's got to drive this in energy efficiency, it's got to reduce carbon footprint by 25%. We had maybe four or five criteria, and we put all these technologies in front of a third party consultant who validates: "Is something an eco-product, or isn't something an eco-product?" Now you know, people are going to disagree. Our next-generation nuclear reactor is an Ecomagination product. Some people may not agree with that, but it fits our standard, and so we think it's right. We've grown from 17 products when we started, to 92 or 93 today. We've got another 30 coming in the next 18 months.
For example, some kinds of aircraft engines would qualify and others would not.
Yeah, because they are not 25% more fuel efficient or more fuel efficient than what they replace. We haven't gamed the system. We've kept it pretty consistent.
What's the purpose behind the $200 million challenge you announced?
You know, I come at it from two different levels. One is, as a company, since I've been CEO, we've really tried to reach out to the venture community in all of our technologies. So this is not something new we've started. We've taken equity stakes, we've invited people to our research centers, so I just believe in that. Number two: Energy -- unlike information technology and health care, which is how the venture capital community basically cut its teeth -- requires real scale. A lot of these good ideas aren't going to hit the marketplace because even someone who is as big as Kleiner Perkins can't commercialize them with the scale that GE can. So I kind of thought that we could put a stake in the ground and be a first-mover and aggregate good ideas, particularly around the smart grid. I think the second message it sends is that clean energy investing is still important. In other words, we're there, we're going to keep going, we're not waiting for the government, we're not waiting for the economy.
Is $200 million really that much though, in venture capital terms?
I think $200 million dollars is not small. It's still an attractive amount. I think the combination of that plus saying you're going to work with a company that's got, you know, 45 or 50,000 engineers, 45,000 sales people, and a global footprint. That's every entrepreneur's dream come true.
What effect has the federal government's stimulus funding had on this area of alternative energy investing, on General Electric's bottom line, and on the country's budget deficit?
When the stimulus was first announced, going back to February '09, it was, I think, much more about confidence and safety as anything else. That was 18 months ago. I think a couple things have helped. The Department of Energy is much more active. The Department of Defense has always had an effective way to invest in technology; now the DOE is starting to do those things -- I think that's good. In certain specific areas like batteries, you know, the government has been a stimulative force to get technologies commercialized faster than they might normally have been commercialized. On renewable energy, the impact has been not that big. On GE's revenues, the impact has been not that big. But I think it planted some seeds that have been worthwhile over time. Now what would make it go faster?
What do you say to those who would make the argument that the government spending any sort of large amounts in this area amounts to an industrial policy, picking winners and losers, not consistent with the history of the country or even the formation of General Electric a very long time ago?
Look, I'd make two points. One is that the government has always, always intersected with the capitalist markets, right? There wouldn't be a nuclear power business unless there was a defense industry in World War II, and unless the government facilitated its development, right? All of the technologies for NASA and from the Department of Defense have infused the information technology industry. Think about your business, the media business: You know, foreign ownership of media companies is limited by the government. And every other country in the world is doing it. So, in the case of energy, there's a real disconnect between the price of a barrel of oil today and an investment in a nuclear power plant that's going to last for 40 years. And the government has always played a bridging role between those two points, and needs to today just like every place else in the world. Now in our case, we've got a $45 billion energy business that gets more than half its revenues outside the United States. If it doesn't happen here, we're going to do it someplace else.
I think you made an understatement: You said every other government in the world is doing what we're sort of debating doing or doing in baby steps. I mean the Chinese alone are doing not a little more, but much more.
China this year is the biggest wind market, they're the biggest smart meter market, they're the biggest electric vehicle market. I was in Europe for the last couple weeks. Despite the fact that their economies are slow, they're committed to 20% renewables before 2020. So, that's the world we play in.
So, will non-U.S. manufacturers have an advantage in a climate like that going forward over a U.S. manufacturer?
I think the fact is that companies like GE and Caterpillar (CAT, Fortune 500) and the great American companies have a footprint that's global. So, if we don't do it here, we'll do it someplace else. And I think what we miss out on are exports and jobs. GE sells the world's most fuel-efficient gas turbine. We make them in South Carolina. We ship something like 130 of them every year. Five of them go to the U.S. 125 go externally. So the President has a vision of doubling exports in the next five years. We've actually done it in the last five years. We've gone from eight to 18 billion in the last five years only because we have technology. So the extent to which we can set good standards, we can be a better exporter.
And just to back up to your last question -- because I think it's a good one -- I'm not for picking technologies. I'm for things like a clean energy standard for which gas could fit, nuclear could fit, wind could fit. I think we ought to set it as broadly as we can so we don't pick specific technologies. What we should do is pick a point. We're in the rail business. We make these locomotives. Between 1990 and 2010, our emissions of NOX [nitrous oxide] are down 99% because the EPA has picked points, and we bitched about all of them. But we make more money today than we did 20 years ago, our products are better, they're more export-worthy, et cetera, et cetera, et cetera.
That's a ringing endorsement for regulation!
[Laughing] Well, I don't want to go quite that far. I would say that businesses are resilient.
So let's flip it around from our behavior to the behavior of some other countries in the world. Is China, for example, a hospitable business environment for a non-Chinese company like General Electric?
Our business in China is about $6 billion dollars. We'll grow about 10% this year. We just signed one of the biggest joint ventures in the history of the company in avionics, with a group called Avic inside China. So, I think globalization is always difficult, not just with China, but with Japan and Germany and everyplace else, and there's always going to be bumps in the road. But China is an immensely important market for GE going forward.
You've been quoted recently suggesting that other companies like GE don't get a fair shake in China. Is that a concern?
That's really not what I said. I think China is important, and it's a place we'll continue to invest. But again, I reiterate the fact that trade is hard. It's hard from every country's perspective, and I'd say particularly when economies are tough, there's always a fear of protectionism.
A similarly contentious issue, bringing it back to home: You're a national leader as the head of General Electric. The conventional wisdom in the business community today is that the Obama administration is not pro-business. Is that the case?
The president has taken on health care and financial reform: unpopular, complicated, I would say, not necessarily pro-growth issues. In fact, not pro-growth challenges. So, now, we have to turn our attention to how we track growth in the economy, how we create jobs. We're good at that. Everybody likes small business? Small business tends to hang out with big business. So, in other words, if you look at our supply chain, GE has more than 100,000 suppliers. They're all small businesses. So, they tend to hang out with us. I think it's that we all now have to create the tone -- both business and government -- that says, "I feel comfortable investing." Small businesses and big businesses alike. And that's the challenge. That's what we both have to do.
To date, are you satisfied with the administration's tone in that regard?
I think, like I said, the President's first priorities have been to take on two of the hardest issues going. And to take those on, you create contentious relationships. I think now we have to turn. Now this has to be turned toward a singular, laser-like focus on economic growth and job creation. And I think he's going to find in GE and Verizon (VZ, Fortune 500) and John Deere (DE, Fortune 500) and Boeing (BA, Fortune 500) and IBM (IBM, Fortune 500) people that have the cash to invest, want to invest, and want to create jobs and exports.
Have you had the opportunity to communicate that to him recently?
I've had an open access to the President.
And what's his response?
I think that's where we are right now. Like I said, doing things like financial reform are difficult. And having gone through that is always hard.
So let's make that our last subject. GE is an important financial player. Again, the mood in the country is that big companies like GE have ample access to capital themselves, and small businesses don't because the banks are not lending to them.
I just don't think that's true. Clearly this conversation has been going on for a year now. Our demand for credit is up quarter over quarter. Significantly. And we do business with a lot of what we call middle-market companies. So, we're seeing that improve. But again, I think it's all about confidence. In other words, if anybody stands up, whether it's a government official or a private enterprise, and says, "Bankers stink." If you're a small businessman in Sacramento, you're not going to wake up the next day and say, "I feel so good this morning, I'm going to go build a factory."
Or to put it differently, if the President stands up and talks about "fat cats on Wall Street."
I'm just saying, it's about confidence and tone. That's what drags it out. And, look, I quite admire small business people. I do think they're one -- not the only engine of growth but an important engine of growth -- along with people like GE. Again, if we're going to double our exports in the next five years, we're going to get it done. GE's going to be pulling guard or something like that on the team. But it's all about tone. And no matter where you sit in this country, you have to put yourself in the shoes of the small businessperson, and say, "After I just said that, is this small businessperson going to go build a factory tomorrow or not?"
I want to come back to one quick subject that is near and dear to your heart, which is nuclear energy. Before the BP oil crisis, the President made some constructive and helpful comments about nuclear. How big an opportunity for the country and for General Electric is nuclear?
I think the nuclear industry is going to be big. The question is when. I don't think it's necessarily the government, the President being for it, although that's important. It's really about economics. And what a utility CEO has to do is stand up and say, "Here's my proposition: Your electricity bills are going to have to go up for the next ten years. But in return, you'll have 30 years of energy security at low cost. Who's coming with me?" That's the case they have to make. And so the bottleneck are the public utility commissions. The bottleneck are the people themselves, who think they want nuclear power but have no aptitude or no interest to do that. There are 52 nuclear power plants under construction globally. I'd say if I were going to be generous, two are in the U.S. -- one for sure, maybe two.