New Orleans takes another hit: 5,000 jobs to go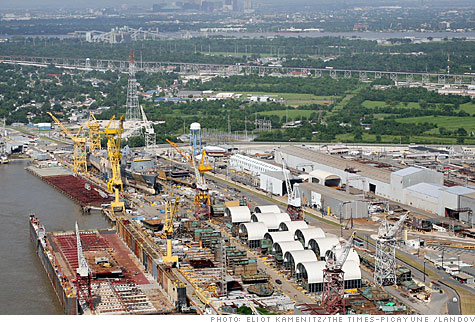 NEW YORK (CNNMoney.com) -- First it was Hurricane Katrina, then it was the BP oil spill. Now the Louisiana coastal region faces a third economic crisis: Northrop Grumman Corp. will close the shipyard in Avondale, eliminating 5,000 jobs.
Northrop Grumman (NOC, Fortune 500) said late Tuesday that it will "wind down" the shipyard, located in the immediate vicinity of New Orleans, by 2013. First it must finish building two LPD-class Navy ships, which are used to transport Marines.
And once the Avondale shop is shuttered, Northrop will send any future work to its Pascagoula, Miss., facility. "The consolidation will reduce future costs, increase efficiency and address shipbuilding overcapacity," said Chief Executive Wes Bush. The company is also considering spinning off its ship-building business.
Meanwhile, the local economy must now deal with an unholy triumvirate: the aftermath of an apocalyptic hurricane that approaches its fifth anniversary; an oil spill that is fouling the coast and wrecking the fishing industry; and losing a major employer.
"Northrop Grumman has tragically chosen to turn its back on Louisiana and thousands of workers in the state," said Sen. Mary Landrieu, D-La. "While the company might believe this decision will have a positive effect on its bottom line, the long-term consequences for Louisiana's economy, our national security and Northrop Grumman itself will be devastating."
Particularly devastating is that many of the 5,000 positions were good-paying jobs -- engineers, welders, pipefitters -- that paid about $62,000 per year, according to Bob Brown, managing director of the Business Council of New Orleans and the River Region.
"I think an intangible additional whammy is the human capital attrition," Brown said. "Not only do you lose the salaries and the brain power, but among those workers at Avondale, you have people who do volunteer work at the hospital, you have people who coach at the Little League, who staff the PTA and volunteer at the library. It's a very significant loss to the community fabric."
Fighting for survival
University of New Orleans economist Janet Speyrer said that New Orleans is already facing hundreds of layoffs at the Michoud Assembly Center, where Lockheed Martin workers will no longer be making space shuttle fuel tanks for NASA.
She said losing these manufacturing jobs will have a ripple affect through the economy because of the service industry required to support them. These companies "might not have enough business to operate here without a shipbuilding facility," she said.
There is some hope that the shipyard will be converted over to some other type of business. Northrop said that it plans "to explore alternate uses for Avondale as the last two ships under construction reach completion."
Gov. Bobby Jindal of Louisiana announced that he has been "talking with potential buyers and tenants in order to secure employment levels at Avondale" that could include "additional shipbuilders that could utilize the site, as well as non-shipbuilder manufacturers and other potential job-creating projects."
The governor also said that he met with Northrop Grumman representatives to discuss the building of two additional LPD ships at Avondale in order to postpone the closure to 2015.
The company said it "anticipates some opportunities" at its ship-building facilities in Pascagoula "for Avondale shipbuilders who wish to relocate."
But this provides little comfort to business leaders in Louisiana.
"I guess the only thing anyone can ask for is to pray for a mild hurricane season," said Brown.