Poof! Week's stock gains erased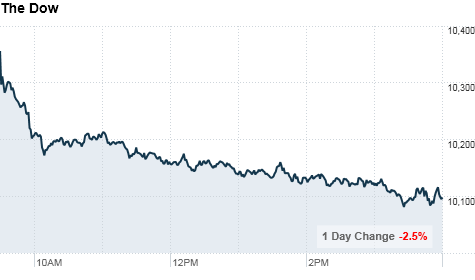 NEW YORK (CNNMoney.com) -- Stocks slumped Friday after financial firms Bank of America and Citigroup reported weaker quarterly revenue and a plunge in consumer sentiment revived concerns about the economic outlook.
A flat reading on consumer prices was also in play, suggesting weak consumer demand and little if any inflationary pressure.
The Dow Jones industrial average (INDU) lost 261 points, or 2.5%. The S&P 500 (SPX) index slid 32 points, or 2.9% and the Nasdaq (COMP) composite shed 70 points, or 3.1%.
The sell-off wiped out the gains for the week, which had been between 1.7% and 2.3% through Thursday's close.
"It was ugly today," said Paul Brigandi, senior vice president of trading at Direxion Funds. "Consumer sentiment was bad, Bank of America disappointed people and we're hitting up against the key psychological level of 1100."
Declines were broad based, with all 30 Dow shares falling. Oil and gold prices slumped, dragging down the underlying shares. Consumer names fell apart, including Dow stocks Procter & Gamble (PG, Fortune 500) and Wal-Mart Stores (WMT, Fortune 500).
But financial shares were hit especially hard, with the KBW Bank (BKX) index losing 5.7%.
Goldman Sachs shares bucked the trend, rising on news it settled its fraud case with the SEC for a smaller-than-expected $550 million. But any relief about the settlement was tempered by concerns about the financial sector profits.
"Goldman should have been a positive for the group, but the negative reaction to Bank of America, Citigroup and GE is overshadowing it," said Randy Frederick, director of trading and derivatives at Charles Schwab.
"The financial sector tends to be pretty sensitive, moving in big swings, and that's what you're seeing today," he said.
He said that in addition, investors are reacting to the weaker-than-expected economic reports on consumer sentiment and inflation. Stocks may have also been vulnerable to a bit of a pullback in the aftermath of two weeks of gains. As of Thursday's close, the Dow had been up 7% for the two-week period.
Results: A number of big, influential companies reported better than expected earnings but provided some disappointment on the revenue side.
Bank of America (BAC, Fortune 500) reported a second-quarter profit of $3.1 billion, surpassing Wall Street estimates, due to improving credit quality. But the company also reported that revenue fell from a year ago. The lower revenue, along with signs of weakness across several businesses, led investors to dump the shares Friday, with the stock losing 8.7%.
Citigroup (C, Fortune 500) reported earnings and sales dropped from a year ago, due to the weaker stock market. Results beat estimates on a per-share basis but missed expectations for revenue. Citigroup shares fell 5%.
General Electric (GE, Fortune 500) reported higher quarterly earnings that beat estimates on weaker revenue that missed expectations. The Dow component also said GE Capital, its finance arm, was showing signs of stabilization and that its on track for solid earnings growth going forward.
After the close Thursday, Google (GOOG, Fortune 500) reported higher quarterly earnings that missed forecasts on higher revenue that beat estimates, sending shares 6% lower in Friday trading.
Earnings are currently on track to have risen 28% from a year ago, according to the latest figures from earnings tracker Thomson Reuters. Revenue is on track to have grown 9% from a year ago.
Next week brings reports from 122 companies, including 12 Dow components.
"We're getting into the heart of the reporting period," Brigandi said. "While there's optimism about the second quarter, people want to see what the companies are saying about the second half and 2011."
Economy: The University of Michigan's consumer sentiment index fell to 66.5 in July from 76 in late June. Economists surveyed by Briefing.com were expecting it to dip to 74.5.
An early report showed that inflation remains tame. The Consumer Price Index (CPI) a measure of inflation at the consumer level fell 0.1% in June, in line with forecasts. CPI fell 0.2% in May.
The so-called core CPI, which strips out volatile food and energy prices, rose 0.2% in June, versus forecasts for a rise of 0.1%. CPI rose 0.1% in May.
World markets: European markets fell, with Britain's FTSE 100 down 1%, Germany's DAX off 1.8% and France's CAC 40 down 2.3%.
Asian markets ended flat to lower. Japan's Nikkei fell 2.9%, while Hong Kong's Hang Seng and the Shanghai Composite both ended little changed.
Currencies: The euro inched higher versus the dollar after seesawing through the session. The dollar fell versus the Japanese yen.
Commodities: U.S. light crude oil for August delivery fell 82 cents to $76.01 a barrel on the New York Mercantile Exchange.
COMEX gold for August delivery lost $15.30 to $1,188.20 an ounce.
Bonds: Treasury prices rose, lowering the yield on the 10-year note to 2.94% from 2.98% late Thursday. The two-year note hit a record low. Debt prices and yields move in opposite directions.
Market breadth: Breadth was negative. On the New York Stock Exchange, losers beat winners by almost four to one on volume of 1 billion shares. On the Nasdaq, decliners beat advancers 7 to 1 on volume of 1.64 billion shares.
How much of a hit did you take in the recent correction? Are you worried about a bear market? What changes have you made in your portfolio and what changes do you plan on making for the rest of the year? E-mail your story to realstories@cnnmoney.comand you could be featured in an upcoming article. For the CNNMoney.com Comment Policy, click here.