Florida: BP's next big mess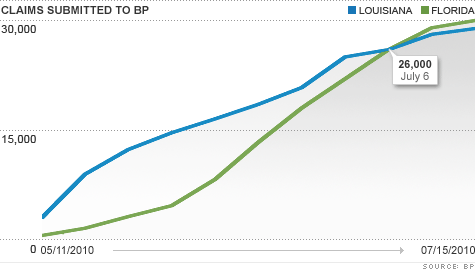 NEW YORK (CNNMoney.com) -- Oil just stopped gushing out of the leak on the ocean floor Thursday, but its impact in Florida has only just begun to surface.
More claims have now been submitted to BP in Florida than in Louisiana. Of the claims submitted in Florida, 60% have been filed in the last month, according to Pat Wright, BP spokeswoman.
As of Friday, Floridians have submitted 30,576 claims, more than the 29,187 claims submitted in Louisiana. "Louisiana became affected before anyone else so as the oil has moved east, the impact has moved," said Wright. Florida overtook Louisiana in the number of claims filed on July 6.
But so far, Floridians haven't gotten much money. As of Friday, BP has made 29,444 payments to Louisiana residents and businesses totaling more than $96 million. Meanwhile, only 10,740 payments have been made to Floridians totaling about $36 million.
That discrepancy is partly explained because Florida claims started being filed en masse after Louisiana claims and partly because BP has ratcheted up its demands for documentation. Early on in the disaster, BP gave out checks in standard amounts to Louisiana fishermen with limited documentation. But now BP requires specific documentation to pay claims.
"The biggest issue for us right now is lack of documentation," said Wright. "A lot of our Florida claimants come in online. In Louisiana, we had a very high percentage of fishermen coming into offices." Once the claim process has begun, there is often a period of back and forth between the claimant and the adjuster, all of which takes time.
It takes an average of just 3 days from claim to check for an individual in Louisiana, according to BP, but it takes 7 days in Florida. And for commercial claims, the average is 7 days in Louisiana and 9 in Florida.
Florida's perception problem: Some of the claims filed in Florida take more time to pay because they are more complicated.
"The perception issue seems to be having a big impact in Florida," said Wright. When vacationers think that oil might get to their beach, they go elsewhere, even if there is no oil on their beach.
Of 19 million Floridians, 1 million work for the tourism industry.
"Tourism is the number one industry in the state, larger than agriculture and anything else," said Kathy Torian, spokeswoman for VISIT FLORIDA, the state's tourism marketing agency. Tourism brings 80 million visitors a year and $60 billion into the Sunshine State. Those tourism bucks represent 21% of the state's sales tax revenue, which is especially critical for a state that levies no income tax.
Filing a claim for lost business due to public misperception is more complicated, takes more time, and requires more documentation than a claim coming from a shrimper who can't go out on the water with a single W2 form to verify his lost income.
Some of the loss of tourism dollars claims are going to be huge by comparison to individual fisherman claims. "You are talking damages to someone who runs a shrimp boat versus someone who runs a 400 room hotel with a nightclub and two restaurants," said John Hutson, director of forensic accounting at Hutson Resource Group.
Hutson helps business owners "quantify, support, present and defend their economic damage." As the size of a claim grows, it takes longer to hammer out the details, said Hutson, who started his career working for insurance companies.
More lawyers, more problems: The size and complication of claims likely to surface in Florida bring one more complicating factor: lawyers.
BP has maintained that it will pay every "legitimate" claim. Determining and defining the boundaries of what is a "legitimate" claim is the task of Kenneth Feinberg, former special master of the September 11th Victim Compensation Fund. While Feinberg has yet to take over the claims process entirely, he said earlier this week that he expects to be in command by the first week of August.
In testimony before Congress, Feinberg said that not every claim will be paid, especially those based on perception alone. "If there's no physical damage to the beaches and it's a public perception, I venture to say that it is not compensable," Feinberg said on Capitol Hill. "How we deal with that problem is something I've got to address. That's in this area where some discretion's going to have to exercised."
The debate over what is and what isn't payable is fertile ground for litigation. "That's what's going to start getting the lawyers fired up, that's what will get the business owners fired up and that's what will lead to the litigation," said Hutson, although as of yet, his clients are seeking his services for submitting claims, not litigation.
For small businesses and small claims, it doesn't make financial sense to go to court. But larger companies filling larger claims with more nuanced legal cases certainly have the motivation.
"A lot of our clients are business people and they are not in the business to file lawsuits, so if there is a way for them to get compensation without filing a lawsuit, that is what most people want," said Lindsey Brock, trial attorney and partner with Rumwell Law in Jacksonville, Fla. "The majority of the people that we have been talking to are waiting to see exactly what the damages are going to be."
But with so much of Florida's economy dependent on repeat visits from vacationers -- 94% according to Torian of Florida's tourism agency -- if tourists stay away from the Florida beaches, the Sunshine State could see its fair share of lengthy litigation.
"Common sense says you shouldn't get away with taking away someone's livelihood and walk away without paying them anything for compensation," said Brock.