Boeing wins $9.1 billion order from Emirates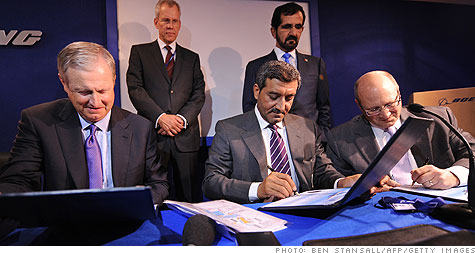 NEW YORK (CNNMoney.com) -- Boeing secured an order for 30 of its 777 jets for $9.1 billion from Emirates Airlines, the companies announced Monday, as the commercial aircraft maker continues to bounce back from the recession.
Boeing (BA, Fortune 500) shares rose 1.9% in early trading.
The Dubai-based international airline already boasts the world's largest fleet of 777 jets.
"Emirates has played an important role in the success of the 777 with its strong support and valuable feedback over the years," said Jim Albaugh, president and chief executive of Boeing Commercial Airplanes. "Today's order underscores the airline's confidence in the airplane which forms the backbone of its fleet."
Sheikh Ahmed bin Saeed Al Maktoum, chairman and chief executive of Emirates Airline said the airplane's reliability, performance and operating economics have made the international airline a loyal customer of the 777 since it received the first delivery in 1996.
In a separate statement, Boeing's Albaugh said the market for commercial airplanes is rebounding and Boeing had more than 3,304 unfilled orders for commercial aircrafts as of last month.
"The market is clearly coming back and I feel very confident about how we are positioned to regain -- and retain -- leadership in this business," he said.
The company forecasts a $3.6 trillion market for new commercial airplanes over the next 20 years.