Before the Yankees, Steinbrenner knew when to jump ship
FORTUNE -- Since George Steinbrenner died last week, the Boss has gotten a lot of press -- for returning the Yankees to their winning ways, for ushering in an era of big spending in sports and for amassing a reputation as one of baseball's most vilified owners.
But there's another element of the Boss's life that I haven't seen discussed: the way that Steinbrenner, heir to a shipbuilding fortune, became an example of postindustrial America by moving his family's financial focus from heavy industry to sports.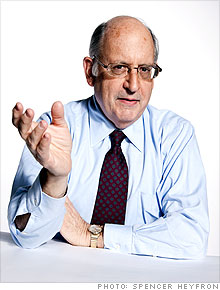 The shipbuilding business his family controlled gave him the wherewithal in 1973 to buy control of the New York Yankees, which started out as a toy. He had tried, in vain, to buy his hometown Cleveland Indians the year before. But over time, as shipbuilding sank and the Yankees became awash with money, the ball club became the family's source of wealth, and it helped Steinbrenner keep his interests in American Ship Building afloat.
I was intrigued by this idea, which I wrote about in 1992 for New York Newsday. Steinbrenner liked it, too. "That's pretty good," he said in our one and only conversation, when I told him about it. "That's why they pay me the big bucks," I told him. He laughed.
The fact that Steinbrenner was talking to me at all tells you something about him -- something good, actually. A few days earlier, Newsday had enraged him by running a piece by sports writer Marty Noble and me saying that the team had to restrain its spending on free agents because it had borrowed $100 million against its broadcast contracts and distributed the money to its owners. Of this, $55 million went to Steinbrenner.
Steinbrenner had refused to take my call when Marty and I were reporting the story and had responded to a faxed list of questions by going over our heads to our boss, Newsday editor Tony Marro. Despite the Boss's Sturm und Drang, Tony -- a class act -- ran the story as Marty and I envisioned it, albeit a day later than originally planned.
Even though I've been a lifelong Yankees fan, I had never been a big Steinbrenner fan. I wanted him to keep his mouth shut, sign the players we needed to win, and leave them alone to keep winning the World Series.
But my opinion of Steinbrenner changed somewhat when I realized he had put a serious amount of his personal wealth -- it seemed to be more than $40 million -- into American Ship without making a public display of it. "There is a sentimental attachment," he told me when I asked why he was pouring money into the shipping business started by his great-grandfather. "When you grow up with ships, it's in your blood."
Why didn't he just let American Ship go under? "Bankruptcy is a tool used by the big guys to screw the little guys who are owed money," he told me. But later in the 1990s, the company went into bankruptcy, and the Steinbrenner connection ended.
The Yankees, meanwhile, prospered financially beyond anyone's wildest dreams, turning the Steinbrenner family into billionaires. Pulling a LeBron James by moving his family and businesses from the high-tax Cleveland area to Florida hasn't hurt the Steinbrenners' wealth. Nor has the widely noted fact that Steinbrenner died during a year when there's no federal estate tax.
But the key to everything was diversifying out of the wrong business -- a heavy industry based in the United States as America's industrial might waned -- and getting into the entertainment business, in which we're unsurpassed.
"Timing is everything," he told me in 1992. "It's better to be lucky than good." No one can disagree with that.
-- With reporting by Marilyn Adamo.