Facebook founder may have given up ownership stake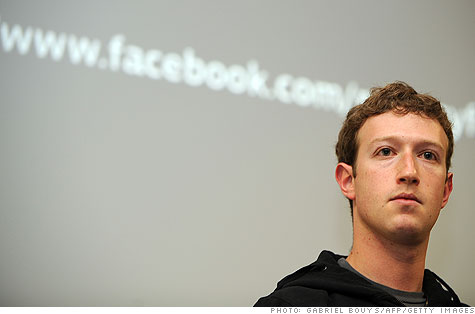 NEW YORK (CNNMoney.com) -- A seven-year-old contract signed by Facebook founder Mark Zuckerberg granting a New York businessman an ownership stake in Zuckerberg's then-fledgling Web project may be real, a Facebook lawyer acknowledged Tuesday in federal court hearing.
"Mr. Zuckerberg did have a contract with Mr. Ceglia," Facebook lawyer Lisa Simpson told U.S. District Judge Richard Arcara in Buffalo, N.Y., according to a Bloomberg report.
But Facebook isn't convinced that the document plaintiff Paul Ceglia submitted to the court is an authentic copy of that contract. "Whether [Zuckerberg] signed this piece of paper, we're unsure at this moment," she said.
Wellsville, N.Y., resident Ceglia sued Facebook and Zuckerberg in a local court late last month, claiming he hired Zuckerberg in 2003 to work on two separate business ventures.
The first was to develop and maintain Web software for "the StreetFax Database," according to a copy of a contract Ceglia filed with the court. The second venture was "continued development" of an already-in-progress project "designed to offer the students of Harvard university access to a wesite [sic] similar to a live functioning yearbook with the working title of 'The Face Book.'"
A local judge granted Ceglia's request for an unusual and sweeping restraining order temporarily preventing Facebook from transferring or selling any of its assets. Facebook responded by having the case transferred to federal court, where Judge Arcara on Friday suspended the restraining order.
Both sides agreed Tuesday to let the injunction lapse for the time being.
Ceglia's attorney, Terrence Connors, said that his client hired Zuckerberg -- then an 18-year-old Harvard freshman -- to work as a coder on a street-mapping database Ceglia hoped to create. The contract they drew up covered both that work and an investment in a side project Zuckerberg said he had in the works, according to Connors.
That side project grew into Facebook, the world's largest social networking site. Ceglia agreed to pay Zuckerberg $2,000 for the job.
In a series of legal filings, Facebook has challenged both the facts of Ceglia's case and the timing of it. Ceglia's alleged contract is dated April 23, 2003 -- several months before Zuckerberg is believed to have started work on Facebook's predecessor projects. The domain name "thefacebook.com" was first registered in January 2004.
But Ceglia's attorneys maintain that their client's case is a strong one. "The contract is real -- as is plaintiff's entitlement to at least a 50% ownership interest in Facebook," they wrote in court filing submitted Friday.
Facebook maintains that Ceglia's suit is "completely frivolous," a spokesman said Tuesday following the court hearing in Buffalo.
"The plaintiff has not produced the original of the alleged agreement for anyone, including the court," he said. "We have serious questions about the authenticity of the document and, assuming an original exists, we look forward to expressing our opinion about it once we see it."