For Campbell Soup, going healthy hurts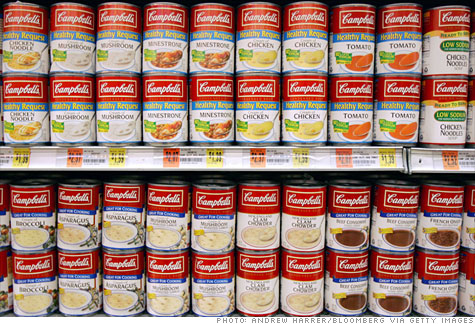 (FORTUNE) -- Since he took the helm in 2001, Campbell Soup chief executive officer Doug Conant has had a great run turning around the once ailing food manufacturer. But now he's facing a challenge no Campbell investor ever wanted to hear: America's growing disinterest in soup.
While the company doesn't disclose dollar figures for its soup business, it's the biggest driver of performance -- its soups, sauces and beverages category accounted for about half of the company's $7.6 billion in sales for the fiscal year that ended last August and nearly 65% of its operating profit.
Certainly the soup business has been struggling: for the first nine months of the company's current fiscal year, soup sales were off 4% despite a modest uptick in the quarter that ended May 2. Earlier this year Campbell (CPB, Fortune 500) cut its projection of sales growth from 4% to 5% down to 2.5% to 3.5%.
During a meeting with analysts earlier this month, it was clear that Conant wants Wall Street to focus its attention elsewhere. The first half of the meeting was devoted to fast growing businesses like baked snacks, which includes the Pepperidge Farm brand, and beverages like the V-8 line.
When the soup presentation came in the second half of the session, Conant did announce plans to try and revitalize the business, including an overhaul of the condensed soup line with enhanced ingredients and improved taste. Campbell also will launch a $100 million-plus advertising blitz during the next fiscal year aimed at promoting all the company's soup brands.
But while Campbell execs hope the new umbrella campaign will give them more bang for the buck, this doesn't mark an increase in spending. The company had been shelling out about the same amount for all its various soup brands, just under separate campaigns. And the meeting hardly answered the central question of whether Conant can get Campbell's biggest business growing in a meaningful way.
Fickle consumers want it cheap first, healthy second
Under his leadership, Campbell has made strides in adjusting its recipes to appeal to the wellness demographic. But while that effort has paid off in certain areas, it may also be contributing to the soup category's ills. Americans want less salt, but they also want lower prices. Janney Montgomery Scott analyst Jonathan Feeney says the shift to healthier fare is a smart one long term, but in this recession in particular, that has been a recipe for disappointment.
Harry Balzer, vice president at consumer marketing research company NPD Group, says the two factors driving food selection in the U.S. are cost and convenience. "If you can't make it easier you have to make it cheaper," Balzer says. "Health is almost always a secondary issue."
Conant clearly gets the message. Campbell has recently increased promotions on its soups, and sales inched up 2% for the company's fiscal third quarter. "We know what it takes to win in soup and we just simply need to do it," Conant told analysts on an earnings call in May.
But Campbell isn't the only company dealing with Americans' growing indifference towards liquid meals. According to NPD, 12% of lunches eaten in American homes include soup, down from 14.4% in 1985. While the figure has stabilized in recent years, it's clear that soup is a mature category that has limited growth potential. According to Feeney, private label brands from grocers have gained market share while Campbell's has declined.
And Conant's strategy of increasing promotions to boost soup sales has its limits. Citigroup (C, Fortune 500) analyst David Driscoll asked Conant on the May earnings call if there is a risk that Campbell's big promotions push will essentially train consumers to only buy soup when there's a special deal. Conant acknowledged the risk but added, "I think we'll find the right balance."
Campbell spokesman Anthony Sanzio says that the company's condensed soup and other products used for making meals at home have done well in the recession as more consumers skip eating out. And he contends the recent weakness in soup is not a reflection that Campbell's focus on improving the health profile of its soup hasn't paid off. "We believe wellness is critically important to our company and to consumers," says Sanzio.
Investors have largely applauded Conant's moves. The former Nabisco Foods president took the helm at Campbell in early 2001 when the company was in a rut. Conant shook up management, replacing 300 out of 350 top managers, and he unloaded non-core brands like Godiva chocolates and revved up the innovation machine.
But with much of the heavy lifting in changing the culture at Campbell behind him, Conant now faces a bigger challenge in fixing the soup business. He certainly has some financial flexibility with a low debt balance sheet. But if inflation gains momentum, the company will need to offset rising food costs with more cutting. Conant will need as many weapons as possible to keep growth cooking at Campbell.