China: Not for the faint of heart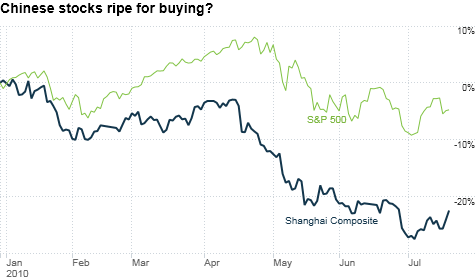 NEW YORK (CNNMoney.com) -- If you're looking to get in on the China growth train, be prepared to stomach the near-term risk.
The Shanghai Composite is down 22% year-to-date with much of the selloff attributed to worries about China's economy overheating.
However, last week's news that China's economy is still growing super-fast -- but just a pinch more slowly than it was -- helped quell some jitters. Over the past five days, the Shanghai Composite gained 5.7%.
But throw in the impact of the European debt crisis and the yuan (China agreed to let it fluctuate and ultimately rise but many say it's still too low), and you still have a lot of uncertainty to contend with.
"China has grown between 8% and 10% a year over the last 25 years and that pace of growth should continue for the next decade," said Henry Zhang, co-portfolio manager of the $2.5 billion Matthews China Fund (MCHFX) -- an Asia only investment firm in San Francisco.
" But this is not an area of the market where you trade in and out in a three- or six-month period," he said. "Think 3 to 5 years at least."
How to invest: You can buy individual stocks that have ADRs (American Depositary Receipts) trading in the United States, but a safer bet would be either a fund or exchange-traded fund (ETF) that is either China specific or focuses on emerging markets with a China focus.
The most popular China ETF is the iShares FTSE Xinhua China 25 (FXI), a fund that includes the 25 largest companies that trade in Hong Kong. The fund is only up 2% over the past year, but it has gained a whopping 94% over the past five years.
"If inflation and overheating growth hurt China and you're in a China fund, you're going to face a lot more risk," said Bill Rocco, a senior fund analyst specializing in emerging markets at Morningstar.
If investors are looking for a pure China play, which Rocco says could be a very risky bet, the best option would be the Matthews China Fund.
Concerns about Chinese bank lending have been exacerbated in recent weeks with the IPO for The Agricultural Bank of China having a pretty lukewarm debut on the Shanghai Composite last week.
Where to place your bets: Rocco recommends the T. Rowe Price Emerging Market Stock Fund (PRMSX) for broad exposure. The fund has jumped 23% over the past year and gained 66% over the past five years.
"Emerging market growth is set to outpace the developed world over the next few years," said Mark Edwards, manager of the $4.5 billion fund.
He said investors can play that growth though the construction and commodity firms that will fuel the expansion, particularly since infrastructure stocks have slipped over the last six months after years of rallying.
Morningstar's Rocco also likes Harding Loevner Emerging Markets Fund (HLEMX), Dreyfus Emerging Markets (DRFMX), Matthews Pacific Tiger Fund (MAPTX) and Matthews Asian Growth and Income Fund (MACSX).
Another good bet might be the Spider S&P China ETF (GXC), said Patricia Oey, Morningstar's Emerging Markets ETF expert. Spider S&P holds a broader range of stocks than the iShares ETF -- about 130, and it invests in stocks that are traded both in Hong Kong and in the United States. She also likes the PowerShares Golden Dragon China (PGJ) ETF.
Both have a variety of companies, including those that play into the growing spending power of the Chinese consumer, a trend all the analysts say is going to persist for some time. To broaden out, Oey said investors may want to consider the iShares All Country Asia ex Japan (AAXJ) index fund, which includes financials, telecom services, consumer staples and energy firms.
"Traditionally, China's growth has been fueled by exports, but the next leg of growth is the rising middle class, the wave of domestic-oriented growth," Oey said.
Matthews' Zhang likes companies that participate in education, healthcare and even infrastructure building - although that sector has taken some knocks recently. He likes Ctrip.com (CTRP), the "Chinese version of Travelocity or Expedia," and China Mobile (CHL). Over the past year, Ctrip shares have jumped 60%, while China Mobile's stock has slipped 1.4%.